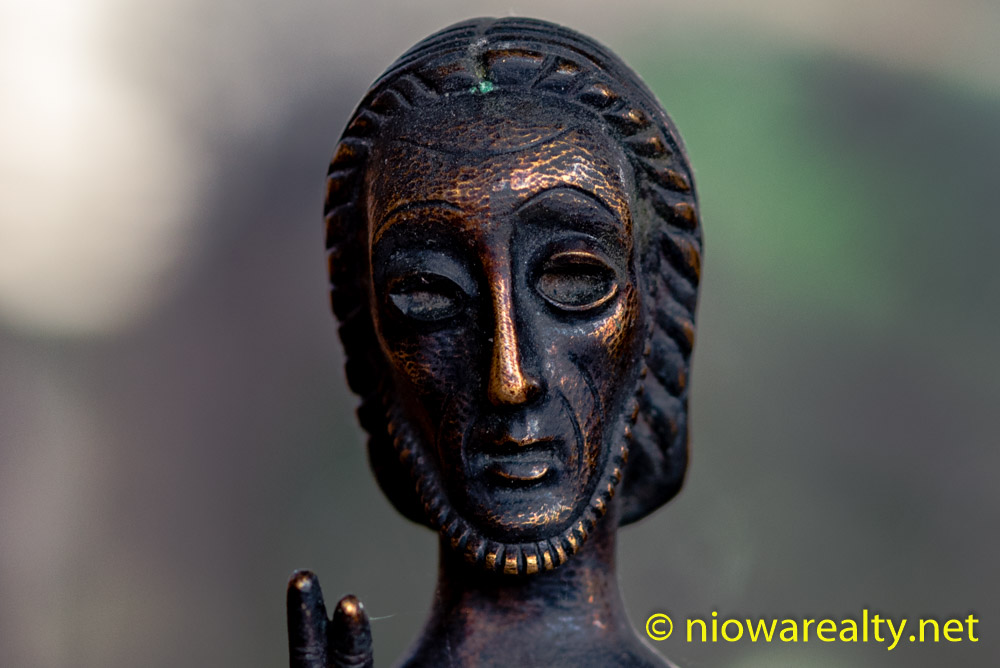 This morning's fog was certainly a precursor of a hot and humid day ahead.  I didn't think it was going to be as bad as it was until I found myself waiting for the doors of a bank to open so to proceed with a real estate closing and finding I was actually sweating while standing outside.  The closing went well and since the home was located in Fertile and the buyers having lived there before, I was able to catch up on some recent news as well as share a few stories of my own from the past.  It's always been interesting how after some time has passed, the opinions of others out of our past are pretty much similar to those who've known the same person in another time and place.  Yes, soon or later the truth about people's character makes itself known far and wide.
I also put in a few plugs about the acreage I have listed in Fertile which could be an in-town paradise for those with a little money and a wider vision.  The most interesting part of the lay of the land, is that the 5+- acre old growth oak grove rises at more of an incline than one normally sees which for me would be a big plus when thinking about how the northwest wind blows so bitterly during the winter.  With the grove being positioned as such, the wind would be blowing up and over the homesite.  Any new owner would have to grow accustomed to what the real weather conditions are past that grove.  If I were looking for an acreage, I'd be asking where I need to sign to get it.  I wouldn't be a bit surprised if there are indian artifacts up in those woods. The Winnebago River is close and that treed slope creating an insulation against the biting north wind would have been a perfect place to build their winter encampment.  Most people even to this day believe the American Indians were primitive in all their ways, but instead they had stellar survival skills and possessed something of a sixth sense when it came to living in balance with Nature.  Wouldn't it be wonderful if we could step back in time before the settlers arrived and spend a day or two with them in an invisible form?  We'd likely come back having learned much more than we ever would have expected.
This afternoon's events were not in the least to my liking.  I have two very upset buyers on my hands who for the most part deserve to be angry.  After being given numerous excuses by the agent for not being able to get into the property for over a week, we finally managed to get in to see the home on Monday.  The buyers made an appointment yesterday afternoon to come to my office to make an offer on it.  Since it was late, I told them I'd deliver it first thing this morning which I did.  It was so early the agent hadn't arrived yet so I left it with their secretary telling her to make sure it was delivered.
Well, hocus pocus shmolie ocus, the agent called mid-afternoon today and said it was sold yesterday afternoon.  Now if that agent even thinks for a minute that I fell off the cabbage truck yesterday, then I guess that'll be the beginning of yet another chapter of my book regarding questionable transactions.  There is no question in my mind the stalling tactics were done solely to afford enough time for another buyer to pull the trigger.  I told the buyers, "I'm a great believer in Karma, and what just happened will come back more sooner than later to those involved.  For me, this was truly a wiles of Wednesday, and for sure not to be forgotten.