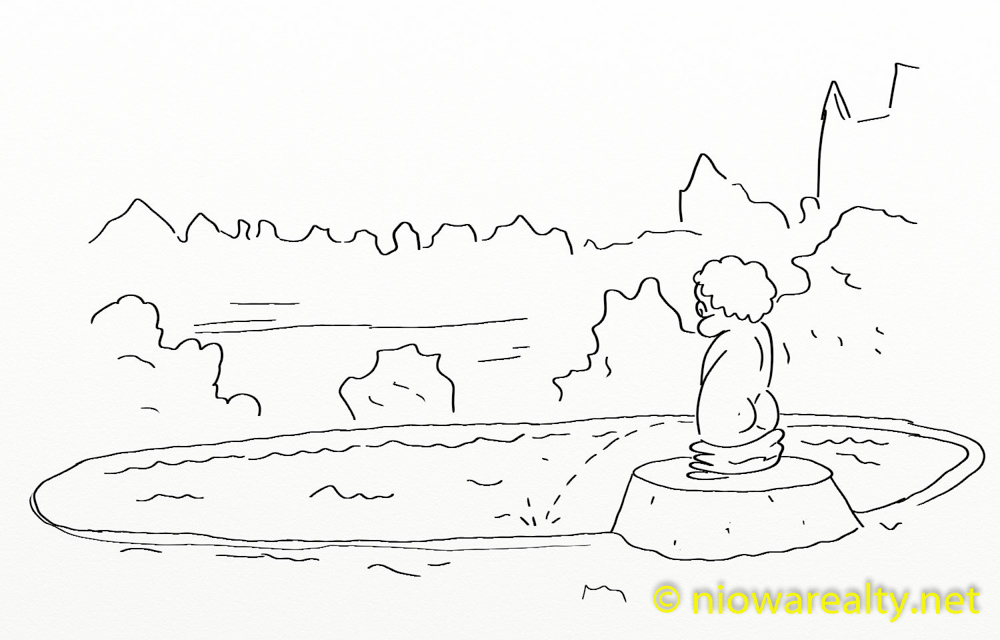 Another Saturday morning was spent doing my once a week chores and glad I got at them before the sun started baking me.  I love sunny days but not out under a full sun for any length of time.  Being of the more fair skin I tend to burn easily and I do everything I can to avoid being sunburned.  I noticed a few more people out walking and biking this morning than normal.  Several times I was stopped from my work to have a good chat.  One of the business owners stopped and I'm glad he did because he gave me a better insight in what triggers changes in taste.  I found out from him that all the years he and his family have been in business, they discovered that most times women don't want to buy things that their mothers had at the time, but rather what styles and colors their grandmothers wore as well as furnished their homes with.  It's no wonder why many of the young are leaning either towards mid-century modern or the older two stories similar to the ones their grandparents or great-grandparents owned.  The more we talked, the more I understood even with my own tastes.  I told him I've never been so much against different styles, but rather the quality of construction along with the attention to detail many of the builders and manufacturers insisted upon.  Thinking back to my youth and the tastes I had then mirrored what he was speaking about.  I wasn't interested in 1950's furniture, but rather the more solid and well built pieces my grandparents owned.  My main reason for being against mid-century furniture was that nearly all of it had wood veneers—little or nothing was solid wood.  I'm really glad we got on that subject today because I'll be paying more attention to what age groups the buyers are in and what will likely trip their triggers.  I was thinking about all the McMansions scattered about the suburban areas and perhaps part of the reasoning for building such monster two storied homes is to try to replicate something they felt comfortable being in when visiting grandparents or great aunts or uncles.  And expanding on that thought even more, those houses they're now building are of a bloated size due to them having remembered one of their oldster's homes as a small child.  The distortion of size perception as a child becomes quite evident when visiting a place one hasn't been since small child.  It's quite a surprise for nearly everyone.
In between errands I happened to get a phone call from one of my clients giving me a progress report on the sale of her property.  He was in quite the jovial mood and somehow the subject of water closets came up when I mentioned having recently been in garage where I swear I could smell human urine.  That of course led me to a story about an elderly woman talking about her beer drinking husband who would have his buddies over in the evening and weekends to be entertained in their small detached garage.  I realized very quickly how few if any boundaries she had with things she talked about.  She pointed out a large metal funnel attached to a bracket in the back corner of the garage with a hose stuck on its end and running thru a hole in the garage wall.  She laughed and said, "I wouldn't let him or his buddies in my house to use the toilet when they were all liquored up, so he invented his pee funnel that emptied into a pail at the back of the garage, and each morning he would freshen up his human urine animal repellant that he had created around the perimeter of our garden. And it kept everything from coons to rabbits, squirrel and deer away!" All that was said with quite a giggle.
I drove away from that appointment knowing I was branded for life by her visuals.  Well, my client had to add a story about her grandmother's gentleman boarder some years ago. She went on to say how all went pretty well for about a month or two until "granny" announced to her children the "old duffer" had to go.  When asked why she made him move she said, "He wouldn't stop spraying all around the toilet and on the floor when urinating.  I told him enough times to sit on the seat to keep from getting my bathroom floor wet, but he wouldn't listen so I decided I wasn't going to be cleaning up after him every time he went, and then showed him the door."  Yes, we both got a really good laugh today when talking about the urinating habits of elderly men.  It must be a "dominant male" thing for not wanting to sit when you miss.