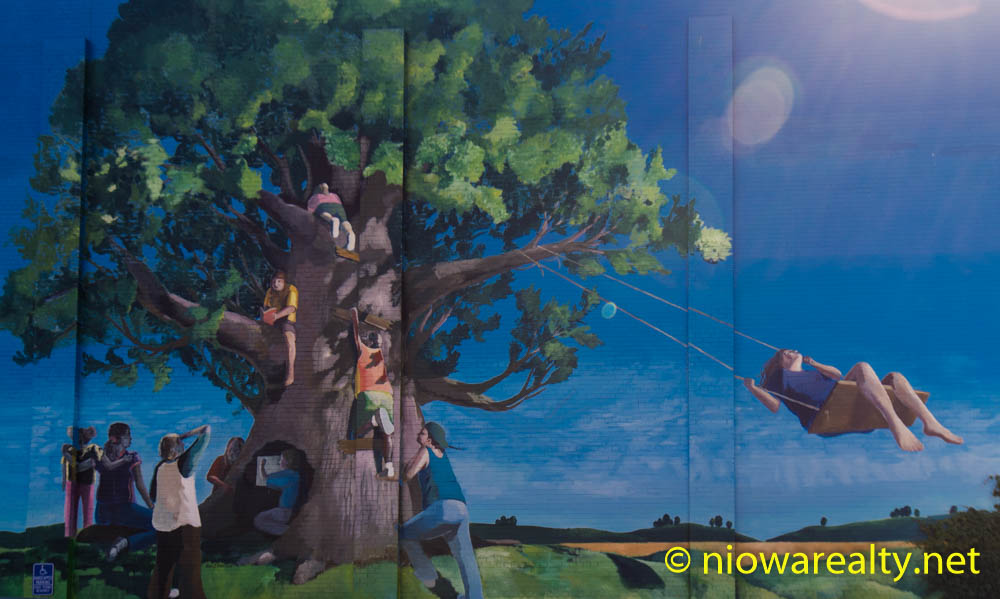 I'm not so sure what's been going on Downtown with all the digging along the streets.  Sometimes it looks like they're running underground cable, while others it appears they're pouring new pedestals for street lights.  It's too bad they're doing it now with Band Festival coming up this weekend.  I was glad to see the street sweepers out and about today—especially after our horrific rain storm last night.  Someone said they were up at that time and noticed that there was some hail in the City.  It woke me up several times, but I didn't hear hail.  It was likely contained to smaller areas.  I had to go to Menard's early this morning to get some things and while there I thought it best to pick up several big plastic bins with lids for storing.  When I went to use one of them today, I was shocked to find the plastic handle side developed a crack and when I put the lid on it, a large sliver of plastic snapped off and of course with it being so sharp, I cut myself.  Luckily it wasn't so large and deep.  I'll never forget several years ago when throwing a garbage bag containing broken plastic pails in it, one of those sharp pieces of plastic popped out and caught the palm of my hand and gave me a really deep gash.  It bled like like there was no tomorrow until I managed with help to get the bleeding stopped and my nasty gash taped shut.  Fortunately it healed over time but that was my lesson to always be careful with shards of broken plastic.  It never ceases to amaze me how cheaply manufactures create things that are meant to last.  Not but one day passed before one of those bins broke. I'm finding we no longer are getting what we pay for as well as planned obsolescence being all the more shortened with new products.
I had to take something back to a customer service counter at one of our retailers this afternoon and had a near jaw drop when seeing an exceptionally hefty female employee wearing leg-ins.  I couldn't help but continue to notice her and thinking, "Lady, don't you look at yourself in the mirror before going to work?" All I can say is, "It was an embarrassing sight to behold." People really must start dressing for their size and age.  That outfit she had on would have been more appropriate for a 13 year old girl who would weigh in at no more than a third of that woman's weight.
After reading several letters to the editor that were against the slaughterhouse in this morning's paper, I thought, "Wow!  The Globe Gazette is even getting letters from people living in San Francisco."  That letter was very good and I commend the writer for sharing not only opinions, but facts.  Several people have recently mentioned that if any of those council members that voted "no" were to change their minds, then they should be voted out of office for allowing themselves to be pressured.  As far as I'm concerned, when in public office, elected officials must always say what they mean, and mean what they say without any future vacillations.
I was delighted to find when my day was done that two of my listings were sold.  One of them I figured would sell more sooner than later, and the other one being listed far too long until the right buyer finally arrived.  In spite of whatever a given real estate market is saying, There are always those few after having multiple offers over long periods of time, finally do sell.  A perfect world for me would be for my listings to sell in two's.