With the continuation of my narrative of yesterday's travels, I forgot to mention how when driving south along Hwy. 69, there was an ever-lingering smell of animal in the air.  I only had my window cracked a bit to allow for fresh air and still I could smell it.  I fully understand why I see Wright County plates on cars parked in some of the lots of cheaper rental complexes in Mason City and Clear Lake.  It wouldn't surprise me those vehicles are owned by some of the workers at those pig and chicken factories.  You may think me using the wrong word "factories" as being the place where those animals are raised, but indeed they are nothing less than factories.  After driving long enough on a two lane, I decided to get back on the I35 at Ellsworth so to quicken our journey to Des Moines.  I was surprised by the number of dead deer along the shoulder.  They were likely hit either in the night or very early that morning.  As we all know, dawn and dusk are the worst times to find deer on the roadways.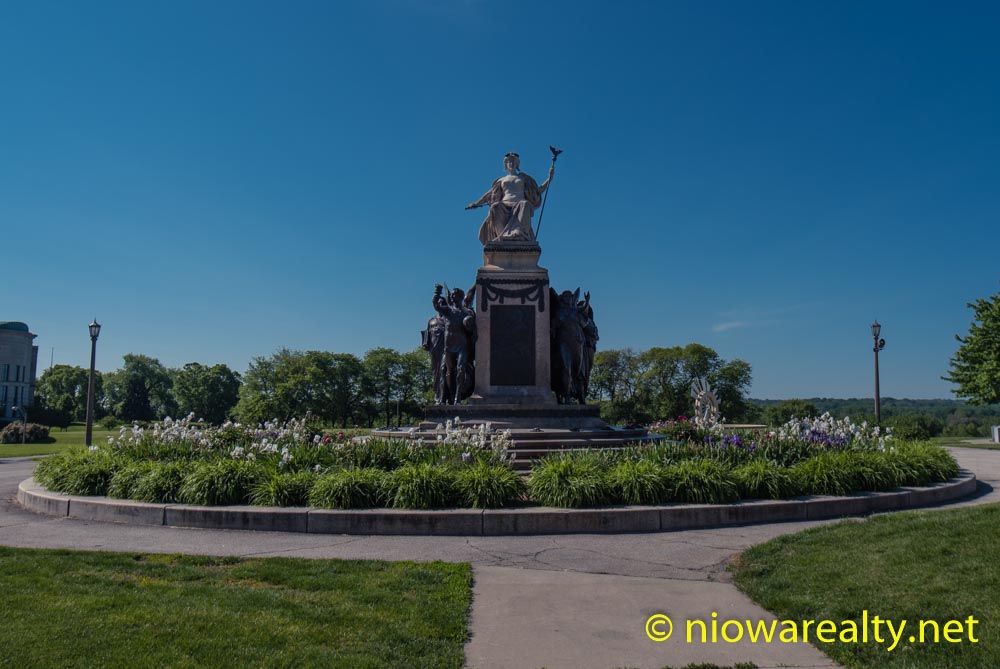 Since our arrival was early enough, I thought it to be a good time to wander about the Capital grounds and take some photos.  It's amazing how near lifeless that area is when there on an early Sunday morning.  We then decided to head to the Downtown and wander about taking in the sights and snapping a few good photos.  Not having been in Downtown Des Moines for a number of years, I was delighted to see how some of those not so pleasant areas are cleaned up or have new buildings in their place.  I was exceptionally taken when seeing several of the old hotels having beautiful facelifts.  There were banners hanging about encouraging people to make their home in the Downtown.  The one thing I noticed about the Downtown in Des Moines versus Mason City is the lack of sufficient waste bins.  There were far too few to be found.  I also noticed they're still using parking meters which to me always takes away from a walking experience due to a fear walking into one while looking at something else. I was also surprised how few people I found walking about while there.  I think Mason City has far more curious people out and about in the early morning hours than they do.
Our next stop was Terrace Hill.  I hadn't been there since I was much younger and was quite surprised how the trees have almost completely blocked its view from the street.  We walked the entire circle street around it and was only able to get a relatively good photo of the west side.  I'm surprised the State doesn't keep the canopy of the trees growing on the property trimmed higher so to afford the general public a better view.  It appears far too "hidden" now which makes it look less grand.
The time finally arrived when the big store was open so I could go and purchase that refrigerator.  Oh Mercy!  The hassle between the employees in the store and the warehouse people was beyond being un-nerving.  I can't remember exactly how many times I heard the voice of the person in the warehouse asking if I'd already paid for it.  I said to the exceptionally calm woman at the counter, "I have just one question for you." She smiled and said, "What's that?" I looked straight at her and said, "How do you manage to stay so calm in the midst of such chaos?" Her face turned red while responding, "I'm on medication." These and other experiences have been burned into my memory during my flying trip to Des Moines.  As I said before, I'll no longer endearingly refer to Mason City as River City, but rather, Iowa's "Star of the North."  Nearly every larger community has a river, but how many can be considered the star?