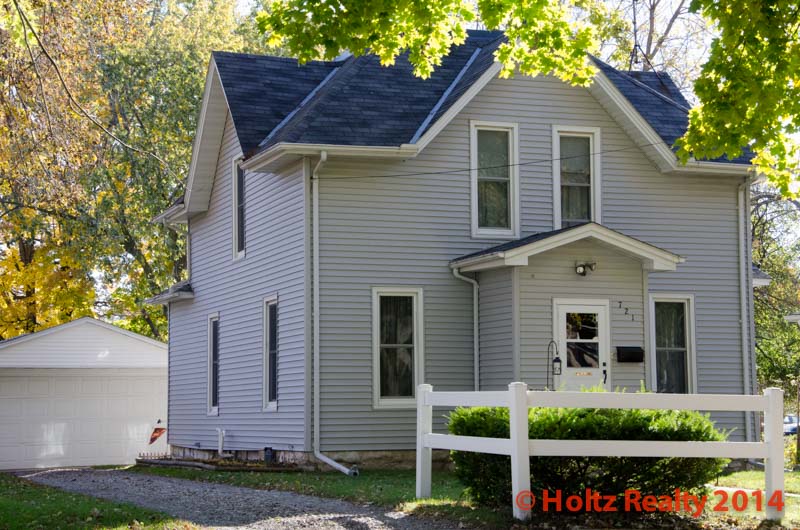 Now that the weather has returned to something more appropriate for the 15th of May, there'll likely be a rapid return of buyers in our market this week.  I re-listed 721 N. Delaware Ave. several days ago and I'm confident it will sell this time around.  It has had about everything you can imagine done to it including the big ticket items like thermal windows, newer furnace and air conditioning, permanent siding and a newer two car garage.  I think part of the reason it hasn't sold is because the owners have a great amount of stuff stored in the 3rd bedroom along with other closets.  If one could visualize the home without all the "stuff", I'm sure they'd see what a very comfortable home it really is.  It's in walking distance to the Historic Downtown to where if the new owners worked there, they could easily walk to and from their employment.  The home is exceptionally low priced for all it has going for it, so if you or anyone you know is looking for a way to fire your landlord, this home would be the best fit. The above photo is of the home. For more details, click on the link below.
721 N. Delaware Ave. Mason City
I decided to take the day off from everything having to do with me and go over to my mother's house and work at getting her basement cleaned out.  After realizing I'd been there for over six hours when looking back at all I'd accomplished,  it was no wonder I felt as a driven horse who'd been ridden hard and put away wet. I'll be having some aches and pains in the morning from all the lifting and moving.  At least I made a huge dent in getting things sorted out and organized.  Once her home has been freshened up along with a few updates, I'll remain confident it'll sell quickly.  When deciding she wanted to live in the City, she was very specific in what she wanted.  I would give her addresses to drive by, and almost always there was something wrong with either the location or the exterior look of the homes.  I finally found one that was acceptable and she enjoyed it immensely from the time she moved into it years ago.
What I like the most about it is the amount of light coming in as well as the views it has of the neighborhood.  I just have to remain diligent in getting the home prepped and on the market so it'll be available for the general home buying public.  One of her dear neighbors voiced her concern about it possibly being purchased by someone and turned into a rental.  I said, "That's highly unlikely.  Nearly all investors wouldn't pay the amount her home will sell for and have any sort of return on their investment."  After she walked away I thought, "Well if there's a parent wanting to buy something for an adult child and rent it to him or her, it would be a possibility but still a long shot."
After being in that basement for so many hours today, I was taken aback by how beautiful the day had become when I went outside.  The sky was so blue and the clouds looked like cotton candy.  I noticed a great number of people out working in their yards along with others having pleasant bike rides and casual strolls.  I was at the grocery store yesterday and the people ahead of me were being a bit on the rude side with a young clerk.  After they walked out and her starting to scan my items I said, "I've noticed when the weather is ugly, customers become similar.  She smiled and agreed.  Irregardless of what the weather is like, we must work at always being in the mindset of living and working in the light of day.