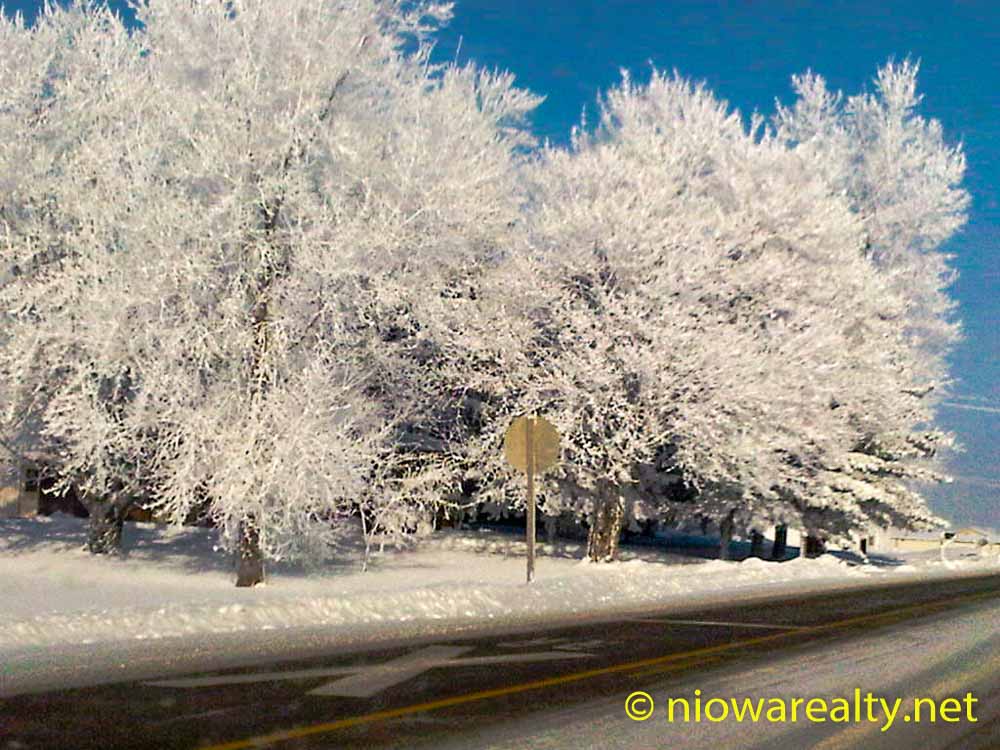 Another one of my listings sold today so it looks like I'm going to be on the push to re-build my office's inventory.  There are several more I'll be listing towards the end of the month which should hit the market before the Spring rush kicks into full gear.  I'm getting a bit more fearful of what our weather is going to be like in our area come Spring after hearing it's supposed to be in the 50's over this coming weekend.  I hope we won't be the next ones to be experiencing above average temperatures like California and Arizona are currently having.  It seems nearly every day I happen upon an article about strange natural occurrences which all seem to be pointing towards global warming.  I spoke with a gentleman late this morning who was talking about his father willing to give him his home in Florida if he wanted it.  He said, "I told him absolutely not! I can't handle those high temperatures along with the humidity."  I went on to say how a dear friend of mine who moved to Florida some years ago to teach elementary education and when she stopped by the office last year, she spoke of how terribly hot it gets to where many times the children cannot go outside and play due to the extreme heat.  I told another today how it won't surprise me a bit to be finding more people relocating to our area just to get away from over-crowded cities and rising temperatures.  I mentioned again today to a downtowner how in all the years I've sold real estate, this is the first year the ground hasn't frozen solid.  It's going to be a wait and see for me in watching for any by-products of this anomaly which I've never before experienced.
I got a few good laughs out of my busy day when stopping by a home one of my clients is working on after his tenant moved out.  He went on to tell about a long list of flimsy excuses received in the mail from the vacated tenant as to why she should have her deposit returned.  He mentioned how in the letter she always referred to every non-authorized damaging improvement being followed by, "…and at no cost to you." I said, "Well what I'd do if I were you after you have the place cleaned up, I'd send a letter of all the repairs you had to make and follow each item with, "…and at all cost to me."  I've never seen so many  broken stair treads in a home which caused me to believe they must've when moving, just let heavy furniture fall down the stairs, or there must have been a pretty chunky individual who liked jumping on steps until they cracked.   All I could say was, "Living in today's world we are finding more people suffering from conscientious stupidity and seem to enjoy doing the most idiotic things without consideration. It's pathetic but a reality in today's world."
Since I'm a bit allergic to dogs and more so cats, I've found it all the more revealing how some sellers wonder why their homes don't sell as quickly and easily as others.  I was showing a home several days ago which had a note posted on the front door saying, "Please remove your shoes."  OMG did I ever have another crude awakening when reaching for my shoes after the showing and finding cat and dog hair covering my socks.  I bristled and thought, "Thank you for asking I take my shoes off so I now have your pets' hair on my socks."  Isn't it special how some people can be so generous in sharing their pets with others?  I just chalked it off as another clear example of Realtor abuse.