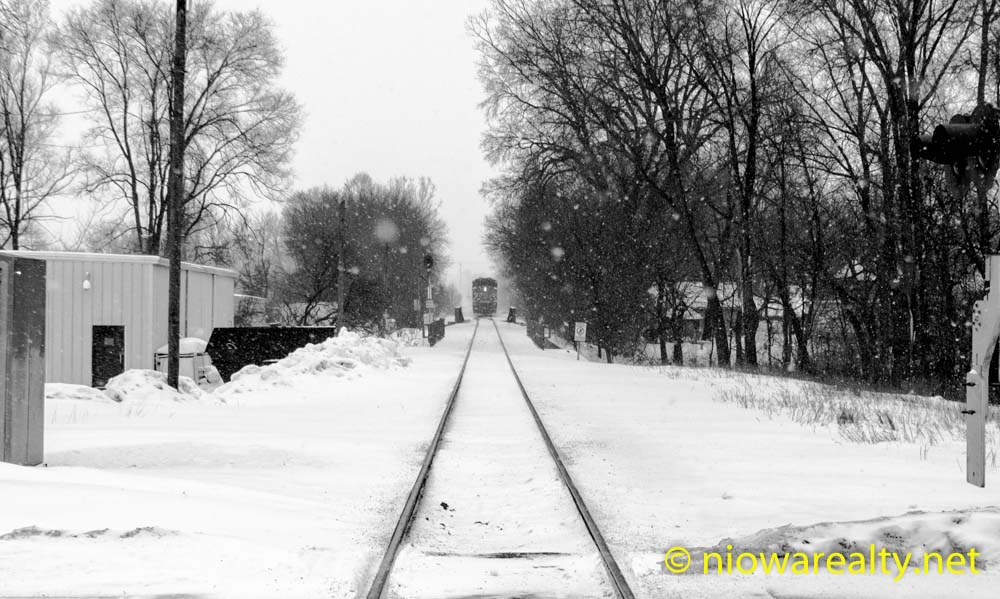 In spite of slushy sidewalks and streets, and it being President's Day, there was certainly a great deal of activity Downtown to where I actually forgot it was a holiday until I called a bank and found it closed.  I'm actually glad they did make President's Day standard back in 1971 to where it's always celebrated the 3rd Monday in February.  Back before that happened we had Washington's birthday and Lincoln's birthday which some institutions celebrated while others didn't.  There were even companies who celebrated both which was yet another perk being offered to their employees.  It became quite the guessing game when trying to figure out who was working and who wasn't during those times.  Since it's been so long since those years, I actually can't remember which of the two were celebrated as a paid holiday the most, but I think it was Washington's birthday.  I hope everyone was able to enjoy their day off today while the temperatures were above freezing.
I can certainly say the buyers are out in full force searching for their new homes.  I wrote an offer on one of my listings this afternoon and after a showing today, I may be writing one on another of my listings in the next day or two.  I've been encouraging my sellers to keep their homes in showable condition in case there are last minute lookers.  Best foot forward when it comes to those first viewings is extremely important.  I ran into an elderly gentleman later this morning who happened to notice 216 Meadow Lane having arrived on the market and mentioned he'll likely be calling me soon to take a look at it with his wife.  I said, "You'll be pleasantly surprised to find it larger than expected as well as better built."  I can't imagine anyone not falling in love with the views being offered when looking out those large dining room and family room windows.  I think one would likely prefer watching the movements of Cheslea Creek rather than any old television program.  Most of what's on television isn't real whereas what's outside the back door of 216 Meadow Lane is alive and real.  I'm hoping whomever purchases it appreciates nature at its best.  I'll never forget showing a home in that area some years ago where the owners had heavy drapes covering their windows facing the water.  I thought at the time, "Who'd want to be living here with all the natural beauty outside and cover their windows facing Cheslea Creek?"  It's always been interesting to find how different one's priorities can be when working with the general public. Some day I hope everyone more fully understands the inter-connectedness we have with the living world around us.
I may sound like a bit of a broken record in speaking about the listing I have at 935 – 8th St. SE here in Mason City, but that home has been under the radar for far too long.  Being familiar with the before's and after's of homes of this type, it's amazing how few people can see in their mind's eye the great upside potential that's hidden there.  It's in a great location, the bones are good, and the floor plan is mid-century which is growing all  the more in popularity with the young.  My take on why this style is more sought after is that the younger generation is backing away from heavy styles and dis-function and moving in the direction of streamlined simplicity which continues to remain in favor for years to come.  It's similar to the fact that a simple navy blazer never falls out of favor.