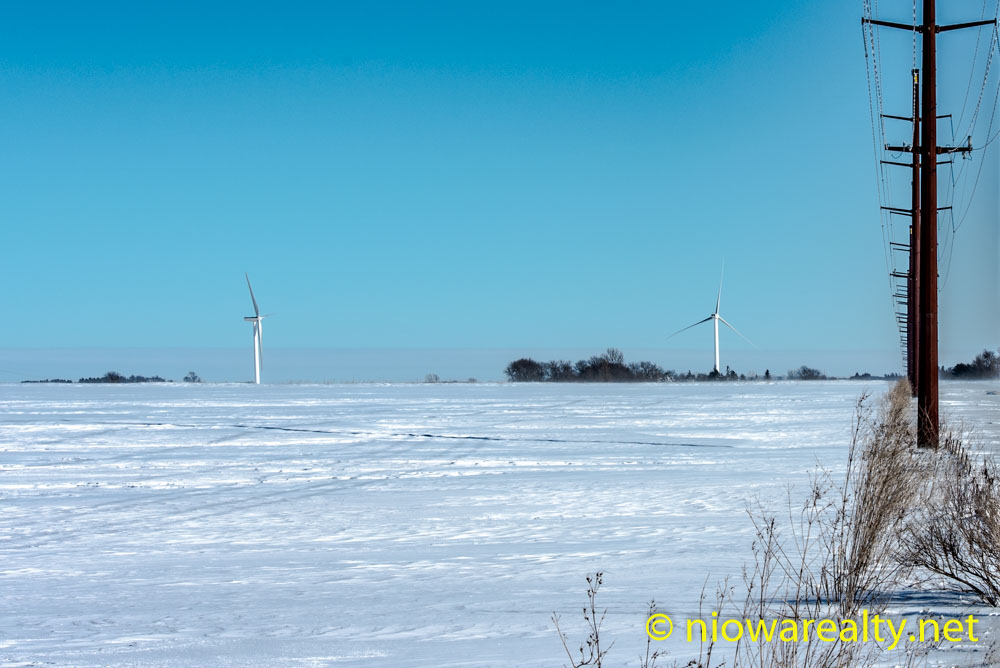 Alas the sun has returned to North Iowa after getting pounded by yesterday's snowstorm.  Seems everyone I've spoken with agreed with my statement in how much more work it was to clear due to the heaviness of it.  I certainly had my aches and pains from yesterday's workout.  Some wonder why in my ancient age I'm still not pudgy and the likelihood is partially genetic and the rest being the number of calories I burn.  This has just reminded me of a story a client of mine was telling me the other day about something she'd recently read regarding studies that are being done on the bacteria in people's digestive systems which they've found determines if someone is going to be lean most of their lives or if they'll be in a constant battle with their weight.  According to her and not me, it sounds like we've all been born either with this helpful fat fighting bacteria or not, and the researchers have already found a way to remove the bacteria from the poop of mice with that fat fighting bacteria and give it to mice naturally lacking it, and have found positive results.  They'd also found that if they do a switch by giving the bacteria from the chubby mice to the lean mice, it has no effect on them.  So, it sounds like if the studies are moved up the food chain to humans and they're successful, we may be finding a natural weight loss bacteria being marketed for those suffering from obesity, and it will all have been naturally extracted, modified, and packaged for consumption.  If it indeed comes to pass, I'm sure any and everyone will be very quiet about taking it since telling another about eating bacteria from human poop would certainly raise many eyebrows as well as loosing a few friends.  I'll leave you all to do your investigations since I'm only passing on what was told me by someone who's never just dreamt something up to talk about.  But please, don't discuss this at the dinner table or while out in public coffee shops for fear you'll be considered a bit daft.
On a real estate note, I'm not the least bit surprised to announce that 1045 Park Lane has an accepted offer on it.  As I suspected, that home was priced to sell and certainly in a sought after neighborhood.  I'd like to have a few more just like it to have sold before Spring arrives.  I'm having a public open house this Saturday from 1:00 – 3:00 on 313 – 9th St. NW here in Mason City.  Any young professional or semi-professional should certainly find this home to meet all and more of their needs.  The kitchen is an absolute beauty, the basement is semi-finished with a brand new 1/2 bath, the oak floors and woodwork are gorgeous, and without saying, this home is turn-key ready.  We have it competitively priced at $94,500, so if you or anyone you know is looking to upgrade, be sure to stop and take a look at it on Saturday.
I was a bit bristled today after speaking to a government worker who was certainly rude, dismissive, and downright not nice.  Every time I mentioned something or questioned something, she'd reply in a snippy tone.  I so badly wanted to say to her, "You were the one that applied for your job and got it, but if now you don't like it, then quit." There really must be some basic refreshers for people like her to go back to and re-learn.  I walked away and simply sent it down because I'm convinced people who act like that to others will in a karmic way, get it double back on themselves in the future.