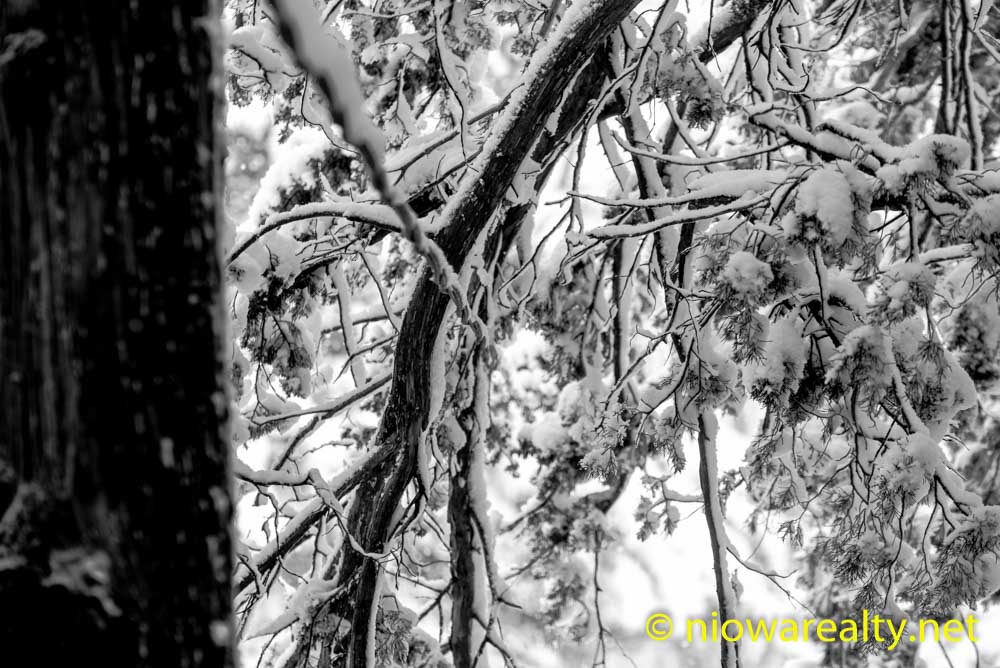 Today's non-stop snow showers have certainly left us buried with more of the heavy wet stuff than I think even the weather forecasters predicted.  As the afternoon wore on, I was noticing more and more businesses closing for the rest of the day.  Certainly that was a good thing for their workers to get themselves safely home and start shoveling and snow blowing.  Since I had mostly everything I needed to get done prior to noontime, I decided to go and see if a dear elderly friend's walk and driveway was in need of shoveling.  When pulling up I was in a bit of jaw-drop shock to see how much snow the City plow had deposited in her driveway approach.  I guess there was a reason I grabbed the old wood handled grain shovel I use once in a while when the snow is so heavy due to it being smaller and easier to work with the heavy stuff.   Before I left the office with it, I thought it best to spray some non-stick frying oil on it to keep the snow from sticking to the scoop.  I don't know if others have done this, but it really works.  It's most aggravating when throwing snow and half of the snow is still stuck to the shovel.  I didn't have a bit of a problem with the snow sticking today after giving it a good spraying.  I'm really glad I brought it because getting that packed snow out of her approach was a major chore.  After three full hours of shoveling, I finally got her walks and driveway clean.  I went in for a short visit and of course she couldn't have thanked me enough.  I did manage to get a few treats with the thanks.  Doing things for people who really appreciate what's done for them is the best reward.  Down the street I noticed a young man wearing nothing more than a t-shirt and sweat pants while shoveling.  When he came close enough I hollered after him, "You're going to get sick being out in this snow dressed like that, but of course you're young and invincible!"  He didn't seem to understand my jest so I simply continued my shoveling.  There'll be some sore backs and muscles come tomorrow morning as many residents are crawling out of bed.  I'm sure I'll be one of them after the marathon of shoveling at my office as well as at the dear one's home.  After today, be assured when someone very clever can invent a blade for a City truck that will divert snow away from the driveways of residents and re-deposit it in their parking, he or she will become a millionaire in a very short time.
While mindlessly shoveling today, a listing of our office came to mind which should have been sold months ago.  It's located just a ½ block from Mercy Hospital on the South side of the Hwy. 122.  It's in an estate and has just recently been reduced to $38,900.  We had an offer on it shortly after it was listed but we couldn't come together on price.  The Executor has been diligently working on getting it cleaned out to where it is almost completely void of personal property.  It needs a great deal of cosmetic work, but luckily there's been some recent mechanical updates which certainly adds to value.  Everyone I've shown it to have been amazed at how deep its poured concrete basement is.  There are a number of newer thermal windows, permanent siding, and a two car garage.  The yard is bigger than normal due to there being two lots.  Most people really don't "get it" when buying something in need of work.  They seem to wait till the grass is green rather than buying now. A well planned project is best started during Winter.
Click on the link below and see for yourselves.