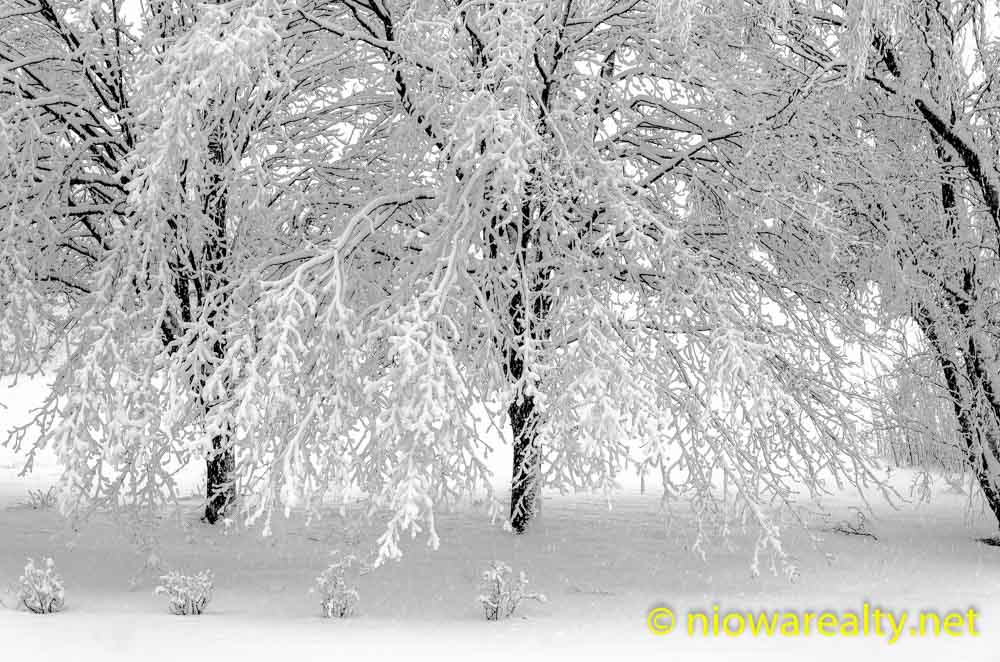 Unfortunately it looks like we're going to get dumped on with snow tomorrow and followed with colder temperatures.  At least we've had some mild days to give us a little reprieve from the normal winter cold.  Alas we're finally out of January and heading closer to Spring.  I'm sure I'd mentioned before the three months I dislike the most with January being at the top of the list.  I was pleasantly surprised to have received a box of fresh California oranges in the mail from clients who were the most delightful to work with during the time their home was on the market.  One can really tell the difference between fresh and not so fresh fruit.  I called them this morning and thanked them immensely for their act of kindness. It was a bit shocking to see how much it cost them to mail it.  People who step out of themselves and freely do things for others are to be admired—especially in these times where many are of the mindset of life being "all about me" instead of "us".  There are a few others that have freely done some especially nice things for me these past several months whom I'll be finding something to give back in grateful appreciation.
It'll be nice when I arrive at the office tomorrow and likely not having any more political phone calls.  I was getting them most often at home, but this past week I was also receiving them at the office.  I may sound terrible in saying that I simply hang up on them without saying a word.   One of these days I'll likely start counting the number of soliciting phone calls I receive in a 24 hour period.  Nearly all of them are voice activated with canned greetings.
An appointment I had to list a home tomorrow was cancelled by the sellers due to the snowstorm we're expecting.  I was so much looking forward to getting it on the market and see how much activity we'll be getting on it once the general buying public sees it online.  It won't surprise me if an upgrading young family will purchase it considering it has exceptionally large room sizes including the bedrooms.
I just sent out a price reduction on 625 – 3rd St. NE today and when it comes back from the seller, the new price will be $59,750.  With it going below $60K, it will likely bring more first time buyers around to look at it.  It really does have a great deal to offer for the price.  One can rarely find a large 2+ bedroom in that price range offering a newer furnace w/central air, permanent siding, and a double garage.  The most desirable feature of this home is its location.  Being only 2 blocks from East Park and on 3rd St. NE rather than 4th St. NE, one won't have to endure as much drive-by traffic going into the park.
Likely the reason it hasn't sold is because I listed it late in the year to where the real beauty of its location was long past the best of our Seasons.  Anyone who's a runner, a walker, or a nature enthusiast would certainly love having East Park close to their back door.  I personally envy anyone living near East Park to where they can enjoy early morning or evening strolls without having to drive there. Our general public here don't fully realize how fortunate we are to have a park as large and well cared for as East Park.  People who've moved here from elsewhere are the first to notice how lucky we are to have it.  Like most things in life, we tend to take the most special of things for granted.