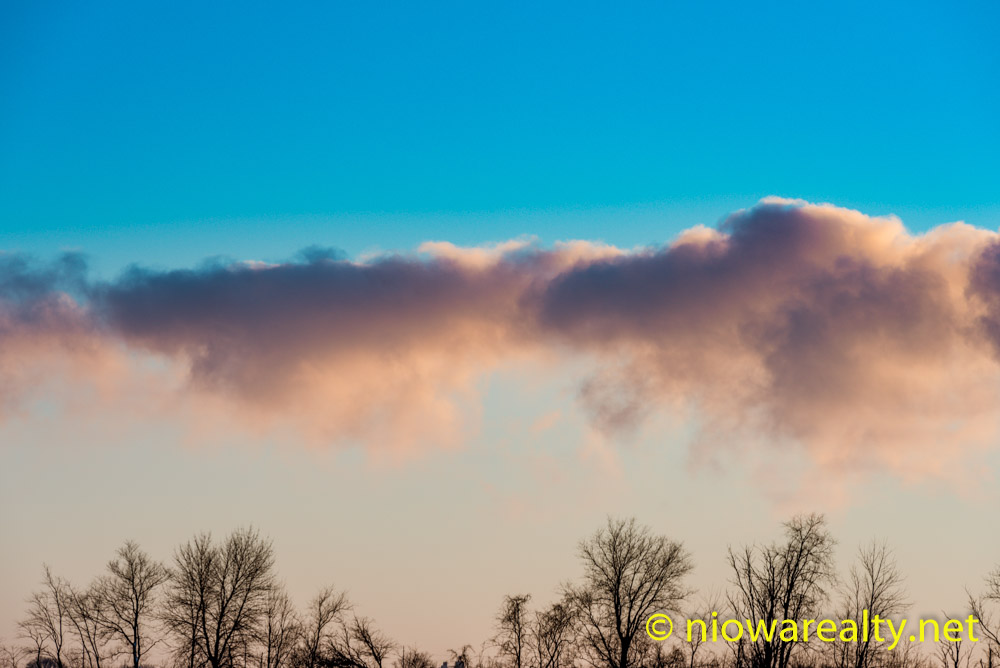 I'm going to stay hopeful these below zero temperatures are going to be short lived.  When the nighttime temperatures get down below -10, one of the strangest of things begin happening with homes—they start creaking.  I've noticed it several times these past two days and simply pay no attention in knowing it's the cold doing it.  Others have said how creeping the thuds are when suddenly happening in the middle of the night.
A woman told me once she'd become a little freaked out in the night when hearing a thud coming from above and started wondering if there was someone on her roof or possibly a rafter had cracked.  I'm not sure if the new houses do it with all the fabricated materials being used, but it certainly does happen with homes built the old fashioned way.  The calls from buyers to see homes for sale has dropped off these past few days and likely due to our frigid weather.  I'm not much worried because it's a seasonal occurrence during these bitterly cold days.  I've always encouraged myself as well as others to find things to do inside that have been pushed to the back burner from being too busy with more pressing matters.  It didn't take me long to find things to do which certainly helped the hours to go by more quickly.  With tax time around the corner, others as well as myself are beginning to gather all the necessary information for reporting.  It seems like only six months ago that I was finishing mine up for 2014 and here we are again.  As I'm growing older as well as more familiar with how big businesses abuse our system of taxation, I would certainly be standing at the front of the line to vote for a flat tax—if you make "x" number of dollars for the year, then that would be the amount on which you'd be taxed with no exceptions.  I understand the concept of non-profit organizations, but I also believe there is a great abuse in that area as well.  The real problem I have with non-profits is that they're exempt from real estate taxation which creates a greater financial burden on those who own properties which are not tax exempt.
At mid-morning yesterday, I thought I run through a drive-up and pick up something light but when pulling up behind someone in a big diesel pickup,  I quickly got more than a whiff of his exhaust.  If there's anything that'll trigger a quick headache for me is the smell of diesel exhaust.  I hurriedly backed out and pulled up to the building and went inside to order.  As chance would have it, I ran into an old client of mine from many years ago having coffee with what appeared to be his "regulars".   He motioned for me to come have a seat with them after I grabbed my light morning takeaway.  I'd forgotten the depth and breadth of conversations taking place at morning coffees.  Giving just a few examples of those twenty minutes spent, I heard about someone receiving a $150,000 check in the mail made out to the wrong person, back-room decisions being made by people in power, the two big fires last week, being passed over for a boy scout medal, and short of everything in between.  I think they were pleased with my presence since they'd managed to get me started with my guileless comments.  If anyone wants to hear the rest of a story, be sure to set in on group of locals having coffee.  What I'll remember the most of that chance meeting was my getting a charming elderly gentleman to start giggling.  On a roaring cold day, laughter can surely be the best of medicines.  The above photo was taken late this afternoon of the exhaust coming from the power plant on our southwest side.