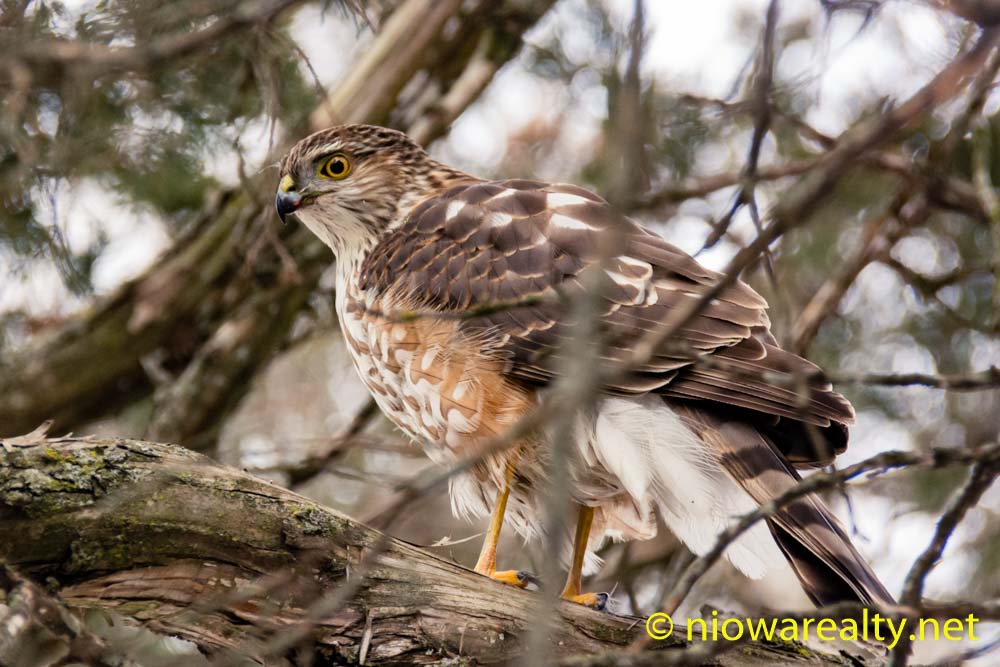 With today being the first normal business day of 2016, I'd almost forgotten how hectic it is with people out and about Downtown—especially at the banks.  It has always amazed me how many people I see darting about with their bill paying, banking transactions, and grocery shopping on the third or fourth of the month.  Even though the Social Security checks no longer come in the mail, I think many of the pensioners are still hard-coded into doing their business on these days.  I'm sure many private and public pension checks are still arriving around the first of the month.  My day was mostly filled with having an early closing which created yet another soft landing for everyone involved as well as getting files and accounts readied for this year's business.  I'm exceptionally glad I've become so used to these tasks every year to where it's almost a mindless undertaking.  Not realizing how little I visit the long term storage area, I found I had a little dusting off to do before I started re-arranging archived files so not to get myself looking like a walking dust bunny from brushing up against file cabinets.
After the phone calls I received today from other agents wanting to show my listings, it appears our market is still cranking along.  It'll be interesting to see how the inventory holds up going forward.  I'm exceptionally surprised how many high-end homes have sold this past year, and a number of them being cash transactions.  After visiting with several other colleagues today, I'm all the more convinced there'll be a more even leveling out of activity in all price ranges.  I'll be happy to see it happen because there are price ranges of homes and styles that have taken too much of a back seat these past several years.
I was called around noontime to do an inspection of a home that's being greatly upgraded with all the "must have's" many buyers are looking for in today's market.  I couldn't compliment the owner enough on the quality of work he's been performing on it since I was last there.  I'll be shocked if it doesn't sell right out of the gates when listed this coming Spring.  I've always known the owner is a perfectionist, but after seeing the before and soon to be finished product, it was yet another confirmation of his abilities.  What I absolutely appreciate about him is his non-willingness to cut costs by using higher grade materials.  I've decided there are builders and then there are craftsmen.  I would always choose the craftsman even if I had to pay more.  Upgrades in homes should always be done with the mindset of their lasting a very long time.  Who wants to spend thousands of dollars in improvements to find say after seven or ten years, they have to be updated again due to wear and tear?   I said to the owner when leaving, "This home when finished will out-last many of the newly constructed ones long after they've fallen apart."  He smiled and said, "I think you're right."
Last week someone mentioned how there's a gap growing between those who're struggling to have a relatively comfortable living, and those who're growing more and more wealthy by the day.  I'm seeing it happen in North Iowa to where I've wondered when those who're being consumed by greed will ever stop.  I've never liked seeing hard working people struggling for the benefit of those who believe enough…is never enough.