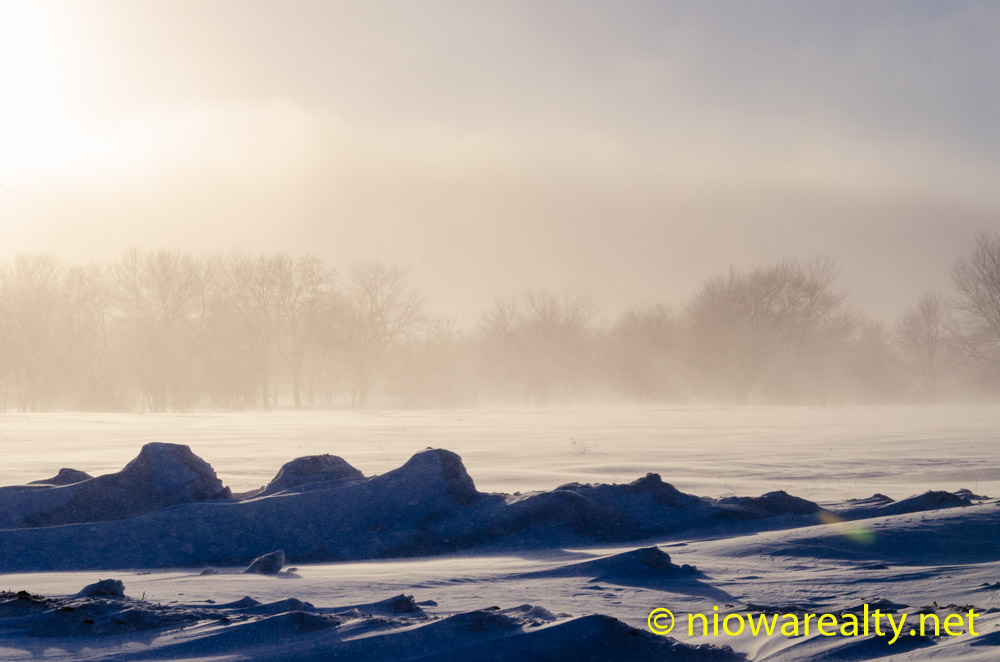 O Mercy!  We certainly had a good helping of snow covering the landscape of North Iowa this morning.  I'm glad I wasn't heavy with appointments thus affording me more time to focus on getting the snow shoveled.  I'm exceptionally thankful the snow was of the lighter type rather than the "snow cone" variety we had earlier.  So it's Winter and we must deal with whatever comes our way—that's what makes us survivors in our Northland communities.  I don't think we're supposed to get anymore measurable snow for a number of days going forward.  I just wish the sun would come out and brighten our wintery days.
I'm still waiting for another one of my listings to get sold which has had an offer bouncing back and forth on it for over a week.  I wouldn't be a bit surprised if there comes another buyer soon who'll ace out the one who's been wavering too long.  It's happened more than I'd care to admit over these years.  I think it's the idea where if one person wants something, then it creates a desire with another.  We can't always have perfect worlds to where we are able to call all the shots.
These past several days have kept me on a bit of a roller-coaster with other external forces making demands on me without true justifications.  As I've said oft times, "If something doesn't feel right about any given situation, then it's time to either stand your ground, or walk away."  Unfortunately we can't always walk away from situations in which we are connected.  I've found many times in the past where people believe they can pressure me to a point where I'll cave and go along with the flow, but what usually happens is I'll dig my heels in and refuse.  The sad part about these situations is I've never considered myself being in a state of tug of war, but rather going with my gut feeling.
There's usually hurt feelings and mis-conceptions on the other side by people not understanding there are no hidden agendas on my part when saying "No".  I've shared my thoughts with other clients and customers who've come to me about situations in real estate that've had them concerned about feelings of being bullied into something they don't want to do.  I tell them all, "Study the situation from all angles, and if you're still not liking what you're being pressured to do, then stand your ground or walk away."  I'm convinced many of the worst decisions made in our world today are born out of fear.   In thinking about it now, I just mentioned to a colleague today my belief that fear is the greatest of evils.   With that said, I encourage every person who's being pressured into something they don't want to do is to, "Remain fast in standing your ground."