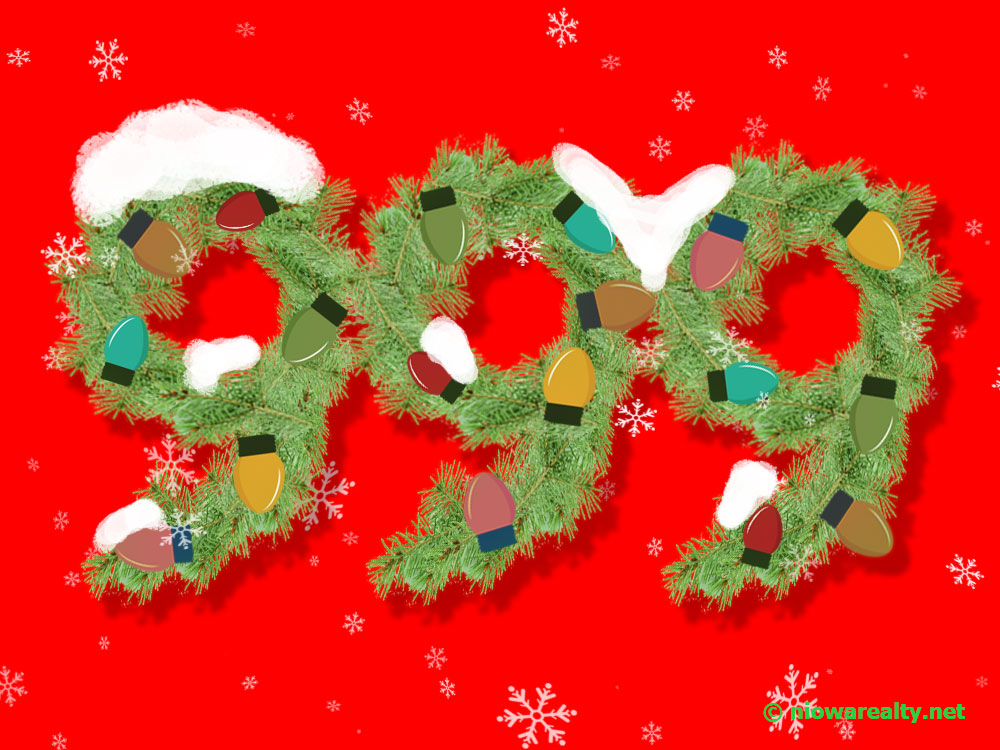 Christmas Eve has arrived and everyone who's been wanting a white Christmas has their wish fulfilled, but as I mentioned earlier, I'm OK with it as long as it's all melted the day after tomorrow.  I felt as though I spent half the day shoveling the nasty stuff that didn't melt from yesterday as well as what fell this afternoon.  One of the patrons of the bar several doors down from my office yelled, "Get a snowblower instead of using a shovel! I know you've got the money!"  I turned back at him and said, "I'd rather shovel than listen to a noisy snowblower and smelling exhaust fumes."  It always surprises me how people who've had more than a few drinks under their belts get loud and become borderless with their language.  There's been rare times in my life when I've darkened the doorway of a rowdy bar.  I'll never forget once many years ago being invited to a bar in a wild town out in Eastern Iowa.  One of my friends said, "Don't look anyone in the eye or they'll think you're wanting to pick a fight.  Well, I can certainly say I didn't stay there but likely ten minutes after smelling urine as I was walking thru the foyer. I said to one of the guys I was with, "I smell p—s!" He laughed and said, "When the toilet room is taken, any dark corner will due for this crowd."  I'm going to chide myself later for speaking of such things on Christmas Eve.
Several gifts arrived at my office this afternoon from two separate client/customers whom I've known for many years.  After seeing what they gave me today, I'm for sure going to do something nice for them.  It's always those selfless acts of kindness which become the most memorable for me especially knowing how much thought they placed in what they'd given.  Since I was fortunate to have a very good year with home sales in my office, I decided to write out a check to a non-profit organization and get it delivered today.  I said to one of the people who assists with their finances, "This is just a gift I've chosen to give with no hidden agendas or expectations."  He said, "We are definitely in need and I thank you very much."  I replied, "I know you are and you are quite welcome." I've always believed the true spirit of giving takes place when one gives freely without any pre-conceived expectations from either the giver or receiver. It's at that point when gifts become pure.
Today marks a milestone for me in my postings of many pages of my writings to you all. My dear deceased sister of a decade or so who was a prolific writer may have had something to do with it as well.  This is the 999th article I have written and when thinking about it, I'm still in a bit of shock I've written so many.  When I started, I thought it would be short-lived and I'd find my mind emptied of things to talk about.  The turning point for me to continue was suddenly finding myself looking more closely at situations with real estate, our community, the people around me, and the world in general.  There have been great joys as well as sorrows discovered as the days and months passed.  I made new acquaintances, I lost friendships, there's been several deaths, new births, and many other unexpected surprises in between.  I've learned to be more careful in not speaking about people who're always on the watch in thinking I'm speaking of something personal about them, and even to the point of being chastised by several in thinking I was speaking out of turn.  No matter how much we attempt to be politically correct in today's world, there's always those who wear their emotions on their sleeves and ever-ready to let you know how much they've been hurt.  I cannot thank all the rest of you who've complimented and encouraged me to continue on with the sharing of my thoughts. I thank each and every one of you from the bottom of my heart for your help in getting me to and past page 999.  It's a bit creepily coincidental that this milestone has arrived on Christmas Eve.  Merry Christmas!