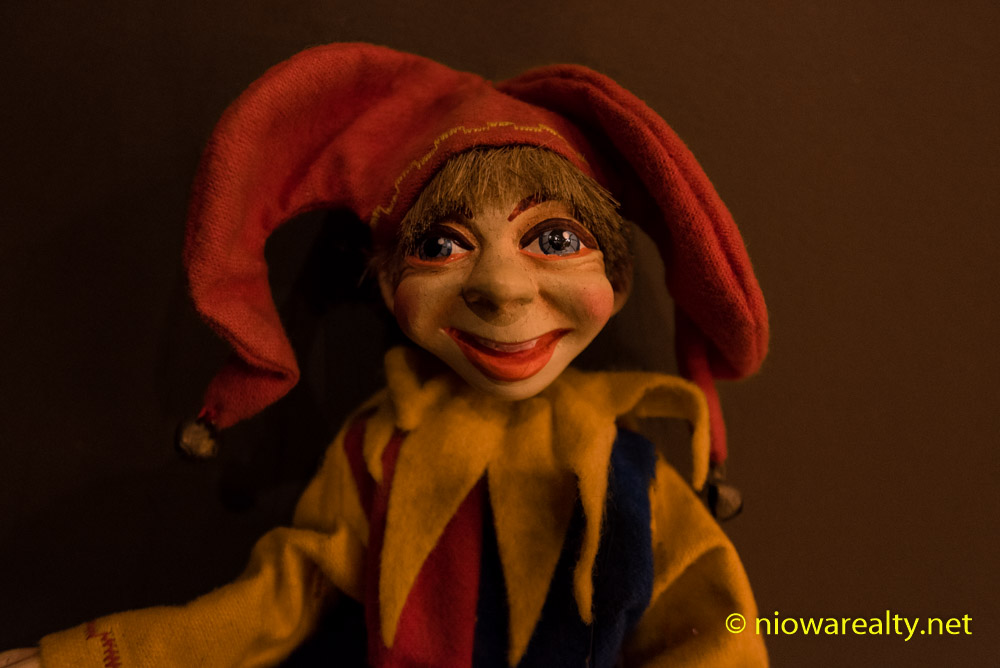 While on the phone today with a customer who is living out of State, I looked out the window of my office and noticed it snowing.  I said to him, "It's snowing." He replied, "Sorry but we don't have any yet."  I then looked back outside and yelled, "Stop snowing!"  My customer seemed to really get a good laugh out of it and when I said, "What? Was it something I said?"  He replied, "It's just the way you said it as though you have control over the weather."  Teasingly I said, "Well, maybe I do if I'm emphatic enough about it."  It's always good to get a few laughs in once in a while during business hours.  Seems people are far too serious about this whole job of living in which we're immersed.  One thing I'm exceptionally thankful about is my not being associated with a big office where the bull pen effect takes place on a daily basis.  Being in competition with salespeople outside the office is enough to handle without having to endure the competition within.  I'll never forget some years ago when I was faced with either continuing on with the legacy of Holtz Realty which required me to move my office around the corner to its present location, or accept an offer from one of the brokers of another real estate firm.  It seemed a broker from one of those offices had already made the assumption that I would accept their offer to join them because the next day, another Realtor called me and said a broker at one of those offices was bragging that they were going to be getting the goose that lays golden eggs.  After hearing that, I became angered that someone would make such a blind assumption.  It was that day I decided to forge ahead and work like a maniac to get my office ready for business.  I look back on those weeks and wonder how I managed to do it, but I'm very glad in these times that I did.  I guess sometimes an inappropriate remark can tilt the scales when making major career decisions.
Believe it or not, my seller who has been waiting for his check for four days from the internet bank closing I was involved in, finally arrived at his home today.  He texted me saying how glad he was it arrived and how much he appreciated my extra efforts in getting it closed.  My response was again being sorry about how the whole thing turned out and reminded him how much a better person he's been for having his extra patience.  I shared my story with one of my bankers today who was in disbelief in how much extra time and effort was needed to even get the checks after closing.  I smiled and said, "If my hair looks a little more gray today, it's been caused from all the stress I went through with that real estate transaction.  As I walked out, I grabbed a couple of their homemade Christmas sugar cookies for my afternoon snack.
Several sellers here in Mason City are getting their homes prepared for me to list in these coming weeks and I'm very excited about them due to their likely being sold in a short period of time.  Since our office inventory is rapidly dropping due to our mounting sales, We're always thankful to get new listings.  I'm going to be showing two of my listings to several buyers this weekend and I've got that "feeling" those two homes have found their new owners.  I can already tell it's going to be a much brighter and better week next week for it will evolve into being the counter-balance of this week having been filled with oily words and sardonic smiles from several really naughty monkeys who've tested my patience to the limits. Isn't life as a whole all about balance and counter-balance?