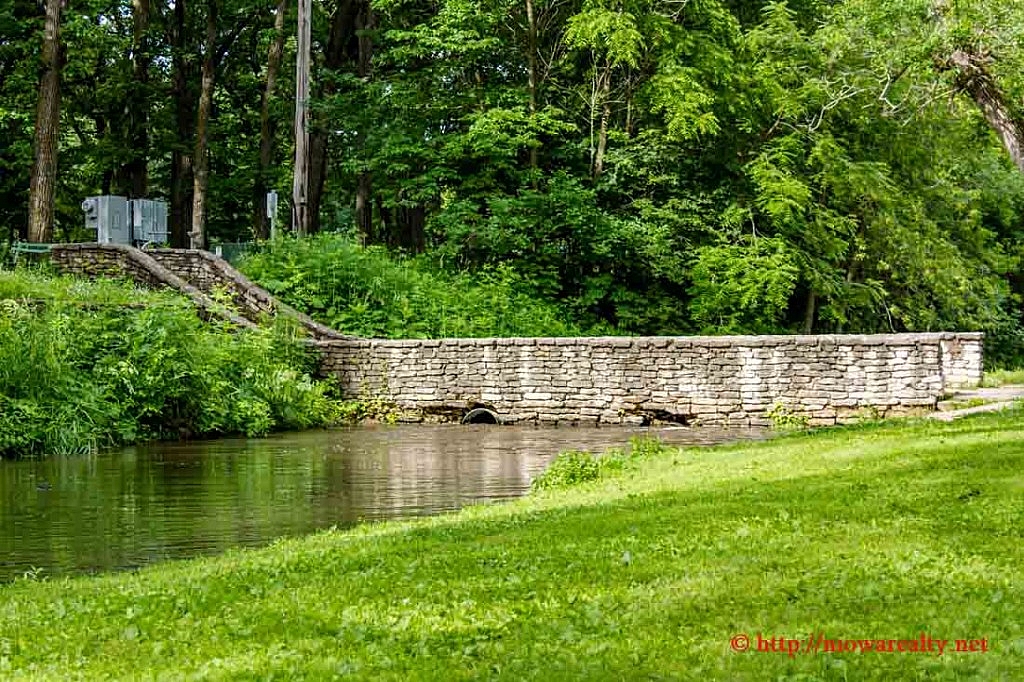 Yesterday, by chance I had the opportunity to visit with a young gentleman who lives in an apartment not far from my office.  Since we've seen each other driving to and from work on occasion, I decided to introduce myself while he was taking a break at a job site where he was working.  Sometimes it's funny how perceptions work in when you see someone from a distance on occasion but having never spoken, you just consider that person to be nice. It's strange when just seeing someone without any exchange of words and finding after the first verbal encounter, they're just as nice as you'd expected.  I know there are theories regarding the "sensing" of others without having to speak.  I would say this was a classic case with him.  He brought me up to speed regarding his work, where he's originally from, and what he likes about Mason City.  In walking back to my car, I wondered if he must've had the same "sensing" going on with me since he was seemed freely comfortable in visiting with me during his break.  It caused me to internally smile when he said he grew up on his family's farm and decided to make a career in horticulture.  I said, "I used to know the names of most trees, flowers, and shrubs, but with all the genetic altering as well as foreign varieties coming from other countries, I'm finding myself believing I know all the less about the plants in today's world."  He said, "You're right, and it's an on-going learning process for me as well."
Whenever I see his girlfriend and him out walking, they seem to appear very happy together.  I would like to see more young couples like them arriving in busloads to our City so to continue with the replenishing of numbers in our population with their age group.  Every time I find a young couple moving out of our City and State following bigger and brighter stars in their careers, I think, "What did we as a community and State not do to keep them here?"  Believe it or not, for most who opt out of staying here, the real tipping of the scales for them is usually not about money.  It's a combination of factors that give them the incentive to bolt. One of my clients who's originally from North Iowa recently decided to move out of State and after speaking with her, I found there to be a hand-full of valid reasons for her to move, and the money certainly wasn't the case with her.  I decided the major cause for her was a poor working environment that offered no opportunities for advancement which caused her to feel as though she was in a dead end job to where she'd have to wait until one or two people retired before she could advance.  I'm convinced more energetic and upwardly moving young people will stay here as long as we keep them engaged enough to where they'll consider themselves key parts of our community as a whole. As far as I'm concerned, new brooms do sweep clean. Each and every one of us should have that "new broom" get in our faces when appropriate.  It helps to keep those of us who think we're the center of the universe in our community on notice and understand that every single one of us are replaceable.
One of my customers stopped by the office yesterday and in conversation, he mentioned having recently been to an auction.  I was shocked to hear him tell of how cheap some of the items sold. I shared with him my recent experiences with auctions and said, "I think the general public is so geared to buying new, they don't even consider buying something that's likely better and more lasting."  We definitely need more second-hand stores in Mason City to where more people will have a better selection.  It's all in pricing and presentation.  I soon want to see someone here open an up-scale second-hand store.
If it's in the right location, has a good presentation, and competitive pricing, I'm convinced someone will have filled another successful market niche in our City.