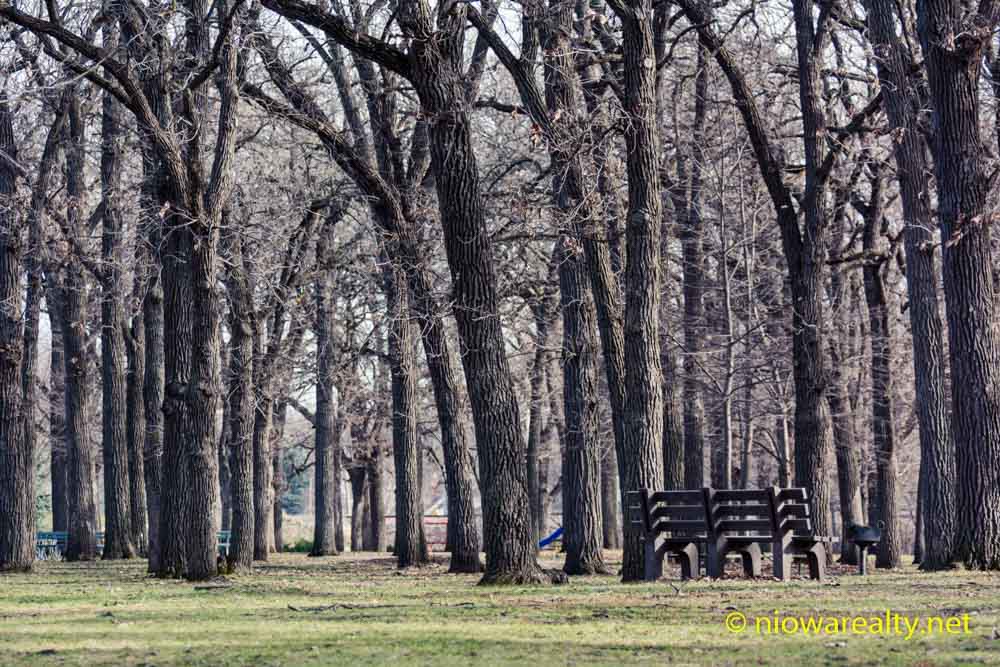 In a bit of a whirlwind, another Saturday came and went.  I had public open house signs to put out, two homes to show, and a home to get listed all before noon arrived. I'll be posting the new listing sometime tomorrow and it will indeed be a "curtain rising" on a home that offers one particular feature that is rarely found in Mason City.  In spite of it approaching Christmas and the slowing of our market, I shall remain confident it will sell in a relatively short period of time due to one exceptional feature, and when I post the photos tomorrow for viewing, you'll certainly understand why.  I had a relatively good turn out at my public open house today.  I forgot to mention in yesterday's post about where in this home, there's a tall upright piano in the basement rec room that actually is still in pretty darned good tune.  As I said yesterday, that home is definitely meant for a growing family.  Several of the buyers who attended were surprised by the size of the interior and especially it having two full baths.
Yes, the room colors are a bit out of date but a fresh coat of paint fixes many of the visual barriers people have when out house shopping. Everyone believes white or off-white is best used on walls when getting ready to sell.  I certainly dis-agree with that idea.  Room colors should be carefully chosen to compliment the size of the rooms, the type of flooring, and the number of windows in the home, as well as what direction they're facing.  North facing windows and small rooms call for lighter colors while larger rooms and South facing windows require deeper colors to help keep the room from feeling as though you're standing in full sun. I spoke to some customers today about a residence that'll be coming on the market soon and still remembered the soft buttery yellow walls with white ceilings and pearl white woodwork.  The home has many windows but the owner used a richer color to tone down the sunlight coming in as well as custom made semi-sheer drapes that get pulled when the west sun starts entering her family room.   A young woman whom I've just started working with really does "get it" when it comes to seeing past visual barriers and look beyond for future possibilities.  I said to her husband, "How is it your wife of such young years has such an ability?"  He said, "She's always had that third eye when looking for beauty that may be trapped inside and screaming to get out."  I smiled and said to her, "I wish I could clone you and spread you all over Mason City and North Iowa."  She blushed and said, "I'm really not that good."  I then said, "Oh but you have no idea how rare it is to find one like you in these times."
Since I was running a little early in driving out to my public open house and taking a bit of a short cut through East Park, I happened to notice how few people were there. After having driven around one of the bends, I noticed how today's light had changed its landscape so I pulled off and parked, grabbed my camera and snapped a few photos.  The photo above is one of those taken which I thought to be quite moving.  In looking at it, I was reminded how many oak trees there are there as well as their age.  I can only imagine how many thousands of people those oaks have seen walking under their canopies, the styles of music heard from the band shell, and even the changing tastes in dress and vehicles driven. Tonight I shall name them our quiet sentinels of East Park.