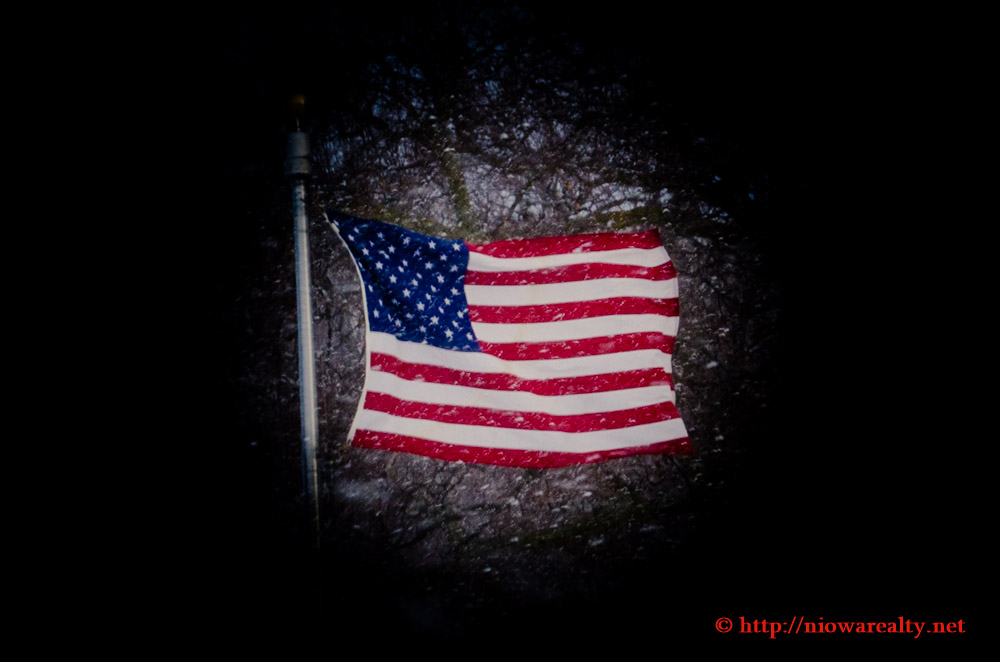 As I had suspected,  the office phones were a buzzing nearly all day today with people who were likely off for the day and deciding to make housing inquiries.  Having not looked at the weather forecast for today, I was out early this morning showing 1309 – 12th St. NE which is the in-town acreage I have listed, and noticed how the air pressure was feeling a little quirky.  We were out there far longer than expected due to the buyer's interest in the property.  The both of us were on the same page as to what improvements needed to be made to create an attractive building site.  The dense mature trees near the street is what makes it all the more private.  There were two deer wandering around and looking at us as if we were intruders on their property.  I can't remember the last time I was so close to deer without them quickly running off.  They were simply looking at us at about a safe distance from us of  30 feet.
I was called to show a rental property belonging to one of my clients and was delighted to find yet another up and coming young transplant to the area.  It's quite refreshing to find intelligent and industrious young people making a choice to live here.  If we don't continue to draw young workers to our area, we will turn into nothing more than a retirement/healthcare community which will focus only on the needs of that age group.
While driving back, I happened to find myself following a vehicle which I knew belonged to a past client/customer.  I've never been able to understand how an able bodied person can decide to not work any longer and years before turning 65, and then leaving the working spouse to carry their entire financial burdens. One can only wonder what a self-induced retiree must do all day long.  You can only read the paper and watch TV so many hours in the day until it would become terribly boring don't you think?  I suppose there are those who enjoy having time very heavy on their hands.
I mentioned to a buyer today how few the pickings are getting with homes which are lower priced and entry-level affordable.  As far as the rentals are concerned, every time I post a home for rent that is below $500.00 per month, it seems the prospective tenants come out of the woodwork and start calling.  There was one I had posted that created such an influx of calls, I had to cancel all the advertising due to the overload of calls on it.  I'm only hoping this is not a sign many tenants having financial difficulties and out looking for less expensive housing.  As many know, the cost of food is increasing due to the droughts out West and I'm not so sure if we'll be seeing even more of an increase.  We all must consider ourselves fortunate to be living in an area where we're not so heavily dependent on reservoirs and rivers to provide water for crops.  When I was young, everyone wanted to move to the Sunbelt.  With global warming out of control, it may be renamed the "ScorchBelt".
I hope everyone took a few moments to give quiet thanks to all the Veterans living as well as deceased for their self-less courage in helping to keep our country free.  Just think of all the families over those many decades who've had to "go it alone" after a tragic death of a loved one while serving in the line of duty.  Please take time to remember and give thanks for their sacrifices before you turn the page on Veterans Day.