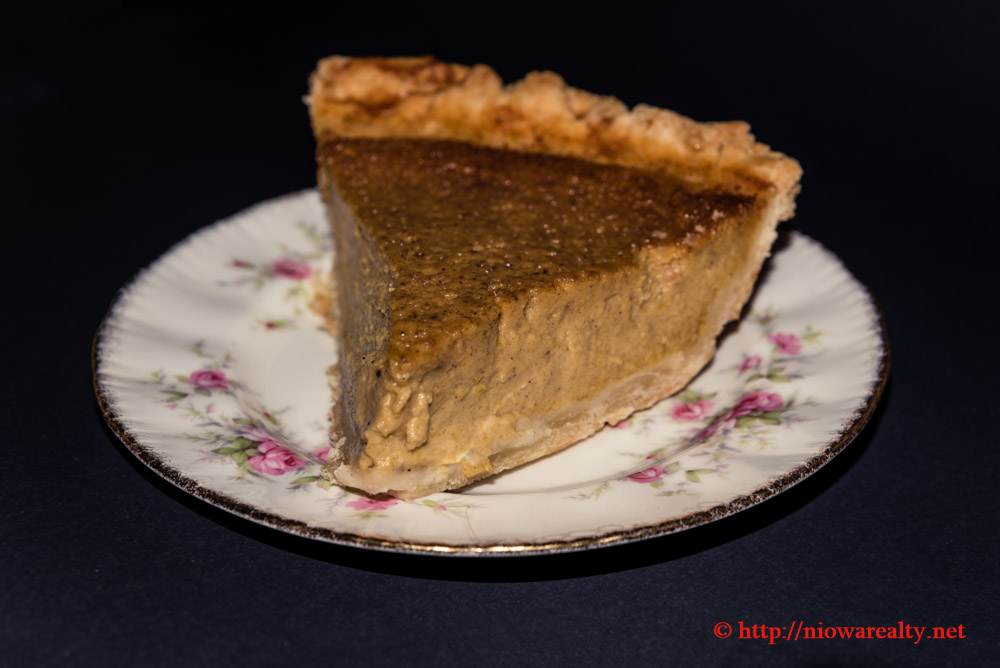 The 15th of October is almost over and we still have not had a frost.  Believe me, I'm not complaining since each warm day that passes means fewer cold days ahead.  In listing a property this afternoon, I realized that exactly 6 months from today is the 15th of April which is the deadline for Federal Income Tax returns to be filed.  Sounds a bit scary at this time since our tax season seems so far into the future.  I was doing a bit of research for a customer today and found there to be some slim pickings for homes priced in the $70,000 – $90,000 price range.  With the new loan regulations that kicked in yesterday, it will likely create a bog-down in the amount of time needed to get loans processed and to the closing table.  I've heard estimates that loans will likely close about two weeks later than the time frames of which we've been accustomed.  I mentioned several times this week my having chosen the wrong profession when attempting to get estimates from tradespeople for work to be completed.  For doing a simple job that would take only a minimum amount of labor and even less skill, to have averaged about $100 per hour.  From my point of view, I'd consider that a bit insane to charge so much for unskilled labor.  I'm more fully understanding why many of the seniors don't want to have work done on their homes for fear of getting ripped off.  I mentioned it to one of the electricians today and his response was, "Everybody wants to get rich quick."   I replied, "Yes, and what ever happened to the people wanting to do a good job for a fair price?"
As far as I'm concerned, there absolutely must be more young people kick-starting themselves into creating small companies that do good work for fair prices.  There are several families I know who've done just that and they're doing exceptionally well because they're honest and don't take advantage of their customers.  All professions have their bad apples and sooner or later they're recognized and branded as such.  There are too many communities across the nation who have people living within them who're young and strong but are not working.  Instead, we find them wandering about with not a care in the world.  I guess the humans are evolving to where being idle is a good thing and being productive is bad. It looks to me like the movie, "Idiocracy".   If there's ever been a dislike of mine, it's to have time heavy my hands.  Everyone needs downtime, but when it becomes all the time, it's bad and creates a weight on society as a whole.
I listed a home late this afternoon which I'll be posting online tomorrow.  I'm confident it'll sell as it has 3 big bedrooms, 2 baths, a double garage, and above all, it's in walking distance to East Park, The Historic Downtown, the library, and everywhere else that's close to the center of our city.  Many times over the years I'd see the owner walking in and around the Downtown.  As I've mentioned before, the values of properties in some of the close-in districts will increase as more building and improving is done in the Historic District of our city. If every proposed build-out takes places, there will be a new vibrancy that will attract an upwardly moving younger crowd.  I've recently sensed the changes in what today's buyers are looking for and it was confirmed in an article I read last week.  Our new generation of buyers want to be located in areas that are in walking distance to work and play, smaller and more maintenance free dwellings, extended family living areas, and great energy efficiency.  There were some good examples given in that article and I would say the Historic Downtown of Mason City has all the key ingredients to make it happen.  I consider myself very fortunate in having my office located in that district and be able to experience first hand the evolution that's taking place.
I have to fess up.  I gave several of the pretty pumpkins I've been giving away this week several days earlier to a very dear and old friend.  She arrived at the office today with four pieces of pumpkin pie and said, "The pumpkin you gave me created the most wonderful pumpkin pie I have ever eaten."   I became teary-eyed in knowing how particular she is about food.  She made me laugh when she said, "I've forgotten how long you have to bake them.  It was an all day job for me but worth it."  Isn't it true, the more we pay forward, the more we get paid back?  I ate one of the pieces at the office today and I must agree with her; it was exceptionally good.