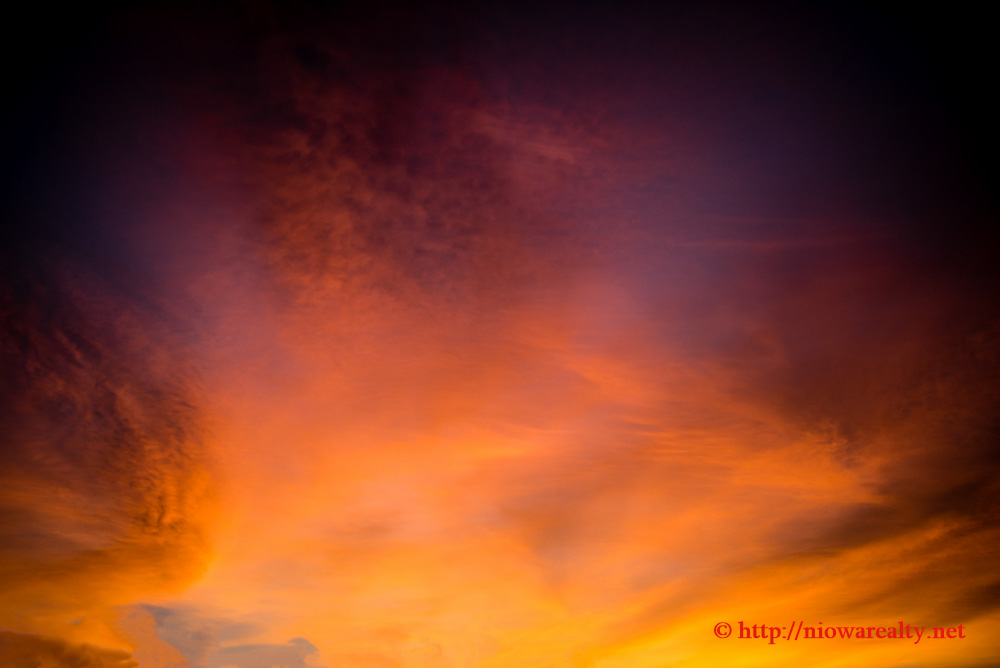 If ever there's been a great Fall in North Iowa, I would say this one is thus far reaching the top of the list.  I'm certainly not complaining about our being frost free.  The flowers in bloom are vibrant with their end of season coloring's.  Sometimes when looking at them this time of year I believe they're pulling out all the stops before their death by providing the most memorable brilliant colors of their life cycles.
My open house today at 1209 W. State was more attended than I thought simply because of the great weather we've been having.  I laughed with one of the people there by saying, "I was afraid Walmart would be full and my public open house empty."  She laughed and said, "I just came from there and they're pretty busy."  I teasingly asked, "Did you see any Walmartians?"  She got the drift of the joke and said, "I think I noticed a few floating about."  Since I received a hefty price reduction on 404 South 9th St. in Clear Lake a couple of weeks ago, I'm in hopes there'll be plenty of ready, willing and able buyers at the public open house I have scheduled for it tomorrow afternoon from 1:00 – 3:00 PM.  The last one I had at that home just happened to coincide with some occasion in the downtown so needless to say, there's weren't that many people in attendance.  We've had one offer on it, so I believe the ice is broken and the next buyer will be the taker.  Sometimes buyers believe they're completely in control of the negotiation process of their home purchases and soon find otherwise.  It takes a coming together with a fair and equitable sale price to where everyone on both sides are happy.
I had a great discussion with a buyer today regarding the negotiation process on a home he's been looking at purchasing.  It's great when buyers are up to speed with protocols in our area as well as understanding the giving and taking in the whole process.  For example, he mentioned something about writing into the contract that the seller has the home professionally cleaned prior to closing.  I made sure he understood that most sellers divorce themselves from their residences as soon as the offers are signed.  Very few ever make sure their empty home ar spotlessly cleaned.  I simply said, "If you believe it must be professionally cleaned, then adjust your negotiation accordingly. If you think it'll take $500.00 to have it professionally cleaned, then pay $500.00 less."
I went on to say, "Should the sellers balk at a lower price, I can simply tell the sellers it's due to the buyer knowing he'll have to pay out if his pocket to have it professionally cleaned to his liking."
I paid a short visit to one of my dear old friends later today and while having our normal chat he mentioned something about seeing someone he has not liked for a very long time due to the general not so kind practices of this person.  He asked, "You know what really rattles the inner core of people?"  I said, "No, but tell me because you're arousing my curiosity."  He said, "When we completely ignore people to the point of not even considering them to exist, they "feel" it and can't stand it because they're fearful of being entirely forgotten by the world.  Their "footprints" of sorts begin to vanish like footsteps on a beach when the tide starts rolling in.  With each wave washing ashore, the footprints, or memories are erased."  I said, "Wow! That's really some concept you have about people and their non-willingness to be forgotten. Where did you come up with that?"  He winked at me and quietly said, "I've done a little reading and studying in my long years."  I was reminded once again why I enjoy visiting with him.
I couldn't help sharing the above beautiful photo I took of this evening's sky.  The old saying popped into my head while posting it. "Red sky at night is a sailor's delight."