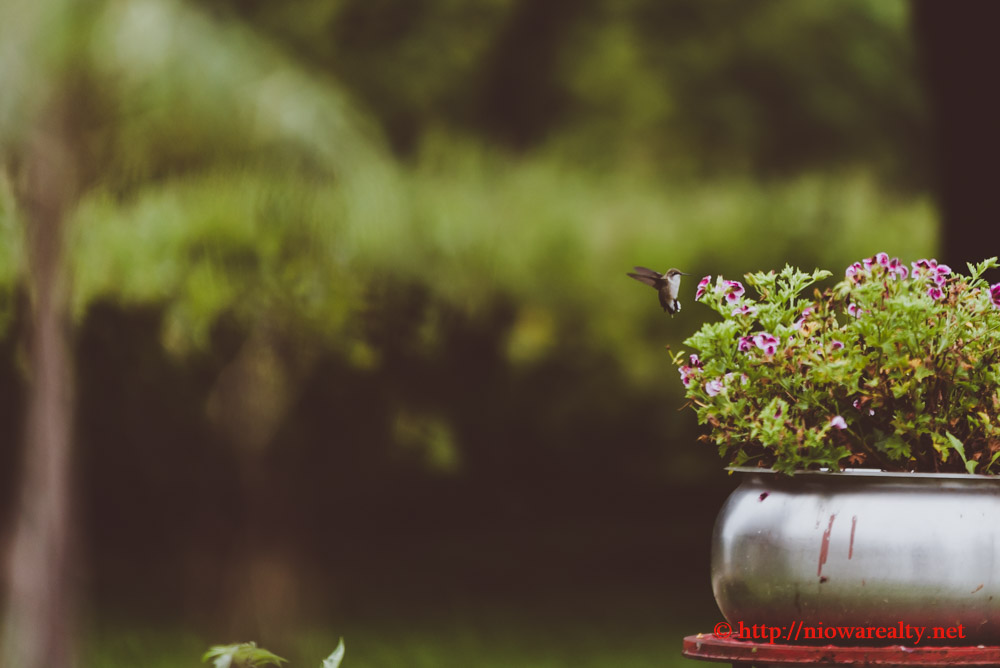 What a wonderful day we had here in North Iowa!  The city-wide rummage sales certainly had everyone out buying and selling.  It would be interesting to find out what was the all time best buy for the City that was purchased today.  I think of the show The Antique Road Show whenever I see so many yard sales going on, and especially when there are things being sold out of estates.  One never really knows what's been stored away in those boxes for likely generations until those things see the light of day out in the driveway of a yard sale.  I know some people have developed an addiction to the Saturday morning sales to where it becomes a habitual Saturday morning event.  I personally know of one gal who went to yard sales for years on nearly every Saturday morning.  After she'd found she had too much stuff, she would have her own rummage sale.  I never did ask her if she made any money on the things she purchased and later re-sold.  I sometimes think it was an excuse to get away from her dull husband who seemed glued to the television every opportunity he had.  As I've grown older, the thought of having so much "stuff" around actually makes me nervous.  I kiddingly tell people that if I bring something new into my home, I make sure there's something going out for fear of my home slowly becoming filled with things that are really not that important in the long haul.
My public open house at 718 East State Street was a success today in the number of visitors that were in attendance.  There were at least three people who were showing good interest.  As I mentioned before, the idea of a bed and breakfast would certainly be a hit with tourists simply because of the home's location.  Close to East Park and a delightful stroll to all the Historic Downtown attractions would make any tourist jump at the opportunity to spend a few nights there.  I like the Decker House, but I'm not sold on it being right next door to a funeral parlor as well as only steps away from commercial buildings and lower-end apartment houses.  When tourists have an opportunity to stay in a home that's located in a residential district and offers great views of the other beautiful homes and park in the area, makes for a more pleasant experience. Having two bed and breakfasts to choose from offers more of a choice.
I'm remaining very confident this home will be the shining gem that will be all the more queen of the State Street entrance to East Park.  I said to one of the buyers that was there today whom I've done business with in the past, "Let's get together and bring this queen back to life."  She laughed and said, "I'm up for it but my husband is the one I'd have a problem convincing." Because I've sold properties for her before, I can say she's one of those movers and shakers and lets nobody stand in her way when getting something done.  I'll never forget the first rickety old house I sold them, and about 4 years later I was called out to sell the very same home which I barely recognized when entering.  It sold very quickly because of the quality of design and workmanship.
I somehow got pulled into a not so pleasant debate with someone today about things that were and weren't done in the past.  Certainly not to my surprise, I discovered again how people re-make a past of which I was included and certainly remember.  It really is an unfortunate happening in these times.  More and more people seem to be able to re-make or even forget happenings in the past.  I'm convinced it's going to happen even more in the future due to the high anxieties from which most seem to suffer.  It must be the stress of their over-loaded jobs, the stress from setting too high expectations for themselves, and finally, the over-load of information we're all being bombarded with on a daily basis.  There are too few who take time to reflect on happenings around them, as well as stepping back and looking at the whole picture.  The increased factor of fear in people's lives see to exacerbate selective memory loss.