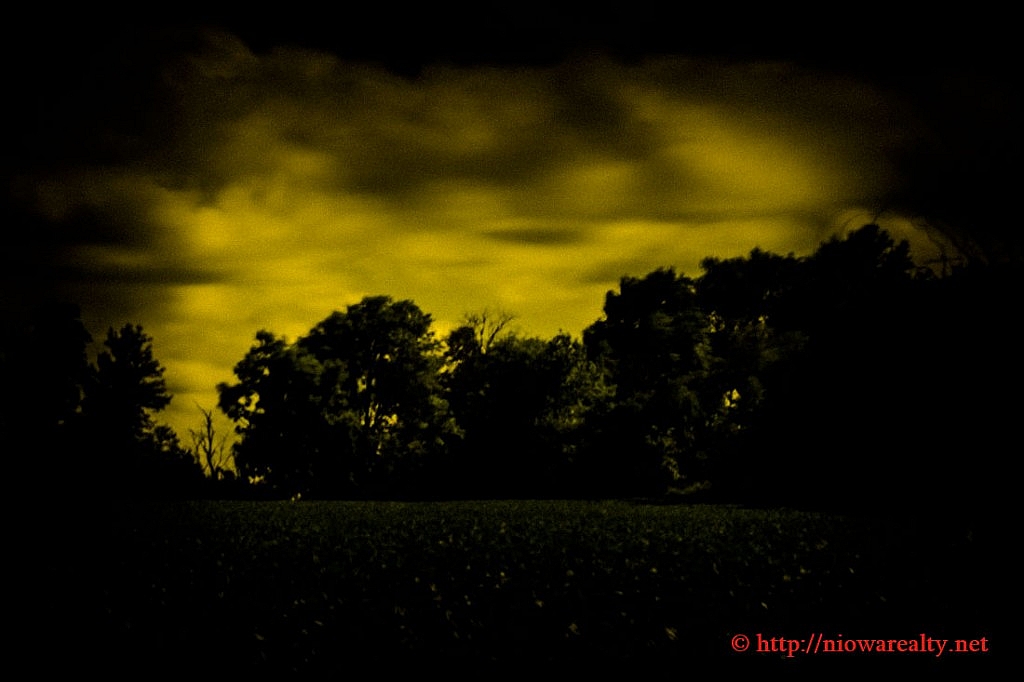 Oh what a beautiful morning, oh what a humid day, I glad that the corn is growing, and everything coming our way. I think our humidity level was the greatest so far this year likely due to the misty rain early this morning. We all have to watch the plantings we have outside a little closer now since we haven't had measurable rain for about a week.
My morning was remiss of real estate appointments out of the office, so I made the necessary phone calls and then spent several hours doing some manual labor. Yes, it's easy to start sweating when the humidity is high.  It was a pleasant surprise to find the number of attendants at my open house this afternoon which was at 24 – 11th St. NE. That home has endless possibilities for either remaining a single family home, or turning it back to an up/down duplex. If it were turned back into a duplex, that would be the second time it was converted since it was built by a drug store owner back in 1901. The owner has an original photo of it shortly after it was built. I really like the two block stretch of 11th St. NE simply because it's quieter due to it not being a true through street, and also the beautiful grand homes that line that two block area. This particular home sits on two lots and offers a 3 stall garage with two separate points of access. There's a 3rd floor which would make a great upper rec room or an older child's get away. I really hope more people realize what a great buy this home is simply because of the price per square footage as well as the extra features it affords. Some lucky couple with long term goals will come along and make this their dream home.
I'm only hoping the market continues to be active due to the fact that I have some really good listings out there that are not sold yet and with the interest rates still hovering low, it's a great time to make the move from renting to owning. I continue to always hope for the absolute best for the new buyers entering the market.
I was being terribly naughty today by telling a person at my open house about my one and only experience with a home I had listed a number of years ago that had an entity in it that was about as close to being a poltergeist as one could expect. In recalling some of the happenings, I was feeling the goose bumps starting and likely the visitor was left in a bit of a jaw drop state of disbelief. I told her, "If anyone would ever try to convince me there was no such things as entities, I would tell them there would be no way I could be convinced otherwise simply due to the degree of unexplainable happenings that took place in that dwelling." Yes, I know it's coming time again to tell another story about tales of creepy things in certain homes. I think my next story will be about a certain room in a basement where everyone that enters it has something interesting to say about it without any coaching from me.
I'm beginning to wonder if there is some sort of trace energy that lingers there which is still strong enough to affect the thought patterns of humans. Whenever I've been showing the home, I sometimes get there early enough to go and visit that room. No matter what type of day, or whatever is on my mind, that room moves my thoughts to the same level. It's very interesting because I've never had that happen to me with a given room in a home. I remember many years ago visiting a castle in Europe and entering a room that I didn't know at the time was a torture chamber and getting this feeling of sadness. It's funny because others felt the same way about that particular room at the time. I guess I'll have to dub that basement enclosure the room with personality.