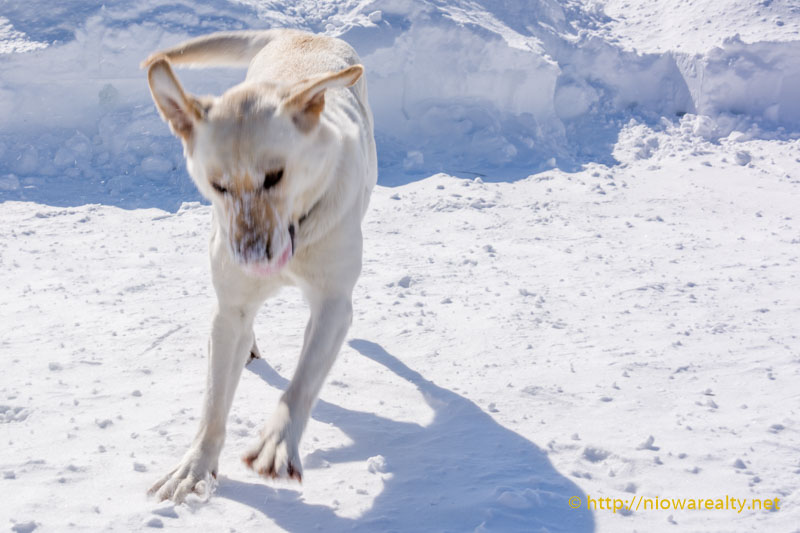 Today's snow was not a welcome happening, but I guess we're still not past the Iowa Girl's Basketball Tournaments. Seems no matter what kind of winter we've had, we can always expect the unexpected weather until those tournaments are over. Since their beginnings, there've been more storms during those tournaments than not. It's almost as though Mother Earth uses that event as her cue in allowing Spring to happen.
I smiled more today in spite of the treachery of the roads and sidewalks as I seemed to encounter people who caused me more grins. I stopped at a convenience store that was empty of customers and had several laughs with an employee whom I've become familiar, about one of his regulars who likes to stare at people in a very creepy way. I said to him, "I see you don't have your staring regular here today." He did mention this person does annoy a few customers at times but seems harmless. He got a laugh when I told him he should be glad dogs aren't allowed inside because most dogs don't like being stared at–especially when they're strangers. I went on to say that if it does happen, I'll refer to his convenience store as being "Barker's Place".
I showed a home this afternoon where the parents had their two young boys along. Seeing young children playing in newly fallen snow always causes me to smile much. They seem to enjoy getting as much snow on themselves as possible and seem to not want to be pulled away from their frolicking. The fresh light snow is always the best since it's not so wet and heavy. When a youngster, I used to love making angels in snow like today's. Between calls and appointments, I attempted to be diligent in keeping the snow from getting too deep outside my office. I really don't like seeing sidewalks outside businesses covered with snow. Perhaps I'm too old-fashioned when it comes to making sidewalks safe and easy to travel in wintertime. There's an elderly gentleman living in the retirement home down the block who takes several strolls during the day. Today he stopped me while I was outside and said, "Your sidewalks are the cleanest in the whole Downtown." Smiling I said, "Thank you. I'm glad you appreciate the effort."
With him telling me that, it caused me to remember a short conversation I had with a young gentleman several days ago. I stopped at the hospital several mornings to visit a relative who was there at the time, and as chance would have it, I encountered a worker in the elevator both mornings who was likely part of the laundry crew and was making deliveries to the floors. The second time I saw him I said, "You must make sure all the patients have the linens they need." He blushed and seemed a bit embarrassed by acknowledging that fact. My response was, "No matter how minor a job may seem, the pride that comes with that job is in knowing that you're doing your best and what'll make you stand out, is when you do your best with flair." As he walked off the elevator, I could see he felt all that much better about himself by what I said, and I hope he remembers it. I have a great appreciation with nearly anything and everything that people do when done in an above average fashion with a few dashes of flair.
All mundane jobs become an art form of sorts as long as there are a few sprinkles of flair included. But if there's too many sprinkles, they'll likely be considered dramas. When one works hard, sprinkles less, it's then we've found we've become our best.