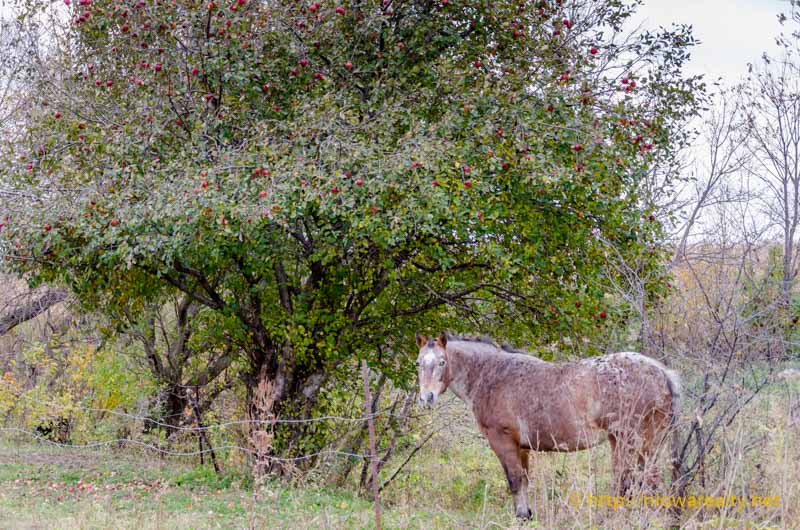 One of my dear clients stopped by the office today to tell me that there was an apple tree in his lower pasture that still had apples on it and if I wanted any of them to just go out and pick as many as I wanted. I told him that if I had time to spare today, I would go out and pick some. As chance would have it, I had about about an hour and half free late this afternoon so I changed my clothes and drove out there. Driving in the country is always a pleasant experience for me especially at this time of year when the leaves have turned and the crops are being harvested. It caused me to consider what the quieter and simpler way of life was for many of the farming families 50 years or more ago.
When I arrived at the farm my client was there so I visited with him a bit before I trekked out to the lower pasture. Lowlands. They oft times seem to have a mysterious as well as haunting beauty to them. Out there, I'm sure one would see during some of the early mornings and later evenings a ground fog created by the heavy moist air as well as from the stream that is running through the property. I followed the owner's instructions regarding where to walk to find the apple tree and discovered it hiding a bit out of view and only a few feet from the bank of the stream. I was quite surprised to find there to be as many apples still hanging on the tree. It was likely due to being a bit more protected from the wind in that low area. I was surprised to find the apples without wormholes since it hadn't been sprayed. The owner told me it was a volunteer tree that came up from seed and actually didn't know it was a fruit tree until it started bearing apples. It causes one to wonder where that apple seed came from so many years ago. Perhaps we have a 21st Century Johnny Appleseed roaming the countryside of North Iowa randomly planting apple seeds in hidden corners of pastures and fence lines.
I found myself picking more than I had expected and figured I would have a struggle getting that many back up the hill to where my vehicle was parked. Low and behold the owner came driving down with his pickup and offered to take the apples back up to my car. He really is a very considerate person who does many kind things in quiet ways.
One of his horses followed him out and decided to reach over the temporary fence surrounding the tree and eat those within reach. Horses and apples don't go together when too many are eaten due to their likelihood of getting foundered. The owner pushed as many apples that had fallen on the ground out of reach of the gobbler.
After I put the apples in my car, I walked back down and snapped a photo of the horse and apple tree. I told the owner I would rather live in a lowland rather than on a hilltop because of the great views and extra privacy. He cleverly said, "I'll sell you enough to build a house." I replied, "You'll never sell any of this land." He smiled and said, "I'll sell you the land but won't give you and easement to get to it." A witty response if I do say so. I'm glad I took the time to pick apples today, but most of all to visit a beautiful hidden glen.