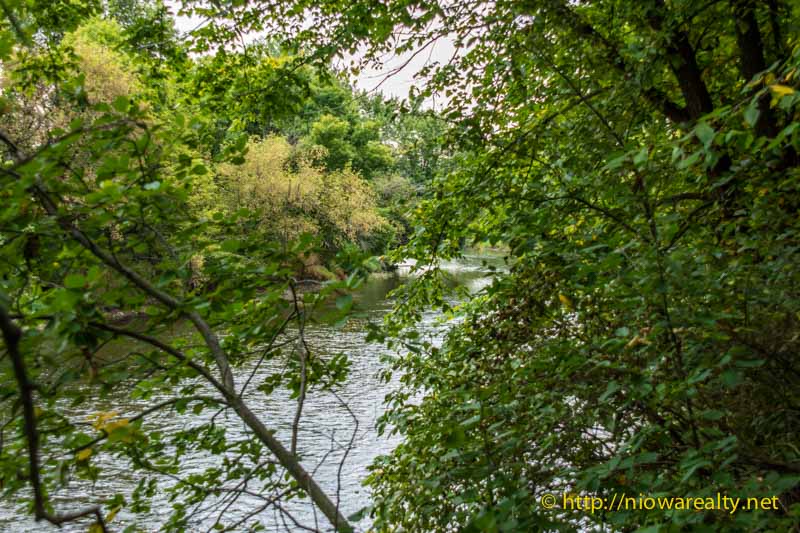 I was asked to do an inspection of a country property this morning and thought it best to get it done before the afternoon arrived as it was filled with appointments. I did take a bit of the long way round to get there since I had the time and wanted to experience the feel of the country as the crops are maturing and the trees are preparing to show off their Fall colors.
I stopped along a winding road near the Shell Rock River and with camera in hand, snapped a few photos of the river. Of the fewer than I like times that I have had the experience to be on the banks of the Shell Rock, I am nearly always amazed at how clean it appears. I guess the residents of Mason City have grown too used to the darker waters of the Winnebago River. Today, the water was clear enough I could see the bottom and happened to get a glimpse of turtles leisurely floating along with the current. Albert Lea Lake is the main source of the Shell Rock and I give the City of Albert Lea due credit for cleaning up their lake. There are more fish in the Shell Rock now and to many people's surprise, even Walleyes have been caught in certain areas of the river.
I mentioned something about the Shell Rock to a tenant who is from Minnesota about investigating the beauty of the river and after my sharing some of the highlights of the Shell Rock, he said he would certainly take a trip to the Greenbelt with his wife.
While standing at the riverbank and taking in the beauty of my surroundings, I remembered a conversation I had last week with a very dear retired friend. I asked her, "Do you remember telling me many years ago how you believed Mason City was the best place to live considering all of all the places in the world you've lived?" She said, "Yes, and I still believe that to be true even today."
Too many of us including yours truly have at times grown too used to our surroundings an thus simply take the beauty that is near us for granted. If we would only consider stepping out of our daily routines and set aside an hour or two once in a while to simply go off the beaten path and spend some time to re-discover the near as well delightful area in which we live. Do a little research and pay a visit to the Shell Rock River and see for yourselves another one of the natural sides of North Iowa.