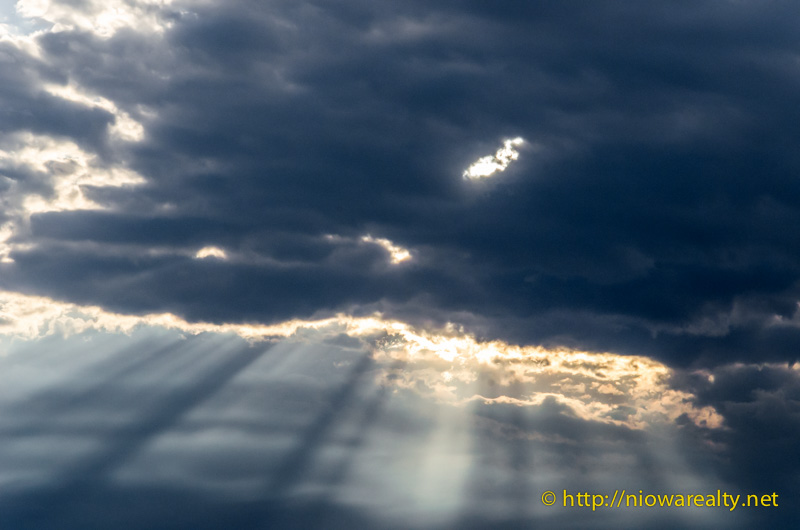 For being a Sunday, it seemed as though the hours went flying past and suddenly I realized it was time to call it a day. I would say I was doing about as much manual labor as mental so I dare say it was one of those rare days of being in balance.
When doing manual labor and not being plugged into any form of external music or media, I find that my mind wanders much. I can hear parts of past conversations as well as old songs that have been sung. Someone once told me they couldn't hear music in their mind if they had to simply think about it. I thought it strange as I considered everyone able to hear voices and music in their minds.
For several hours this afternoon, I was doing a bit of tidying up with one of my clients at a loft apartment she owns downtown. We had the windows open and were quite surprised at being able to hear people talking to each other as they were walking past below. The more I tour the upper apartments of the historic buildings downtown, the more I could see myself living in one of them. I especially like the ones that have the original windows or replacement windows the size they were when the building was constructed. The light filtering through the tall windows and the smell of wood floors and woodwork is quite inspiring. I can understand now why artists of every form prefer rooms filled with natural light. There are several professionals whom I've known for a number of years who insist on having copious amounts of natural light in their offices. Most writers and music composers want to be where ceilings and windows are tall so they don't feel restricted while creating.
I do hope the owners of all the downtown buildings take heed and invest in the restoration of their upper floor apartments. From the rental phone calls I've been receiving these past several years, there will certainly be enough prospective tenants from which to choose whose preference is to have a flat in the downtown. Keep in mind, whenever performing a restoration/remodel, take good care to perform quality work that will last as well as be appealing to the general public.
With all of the positive publicity our community is receiving, perhaps this time around we will all win.