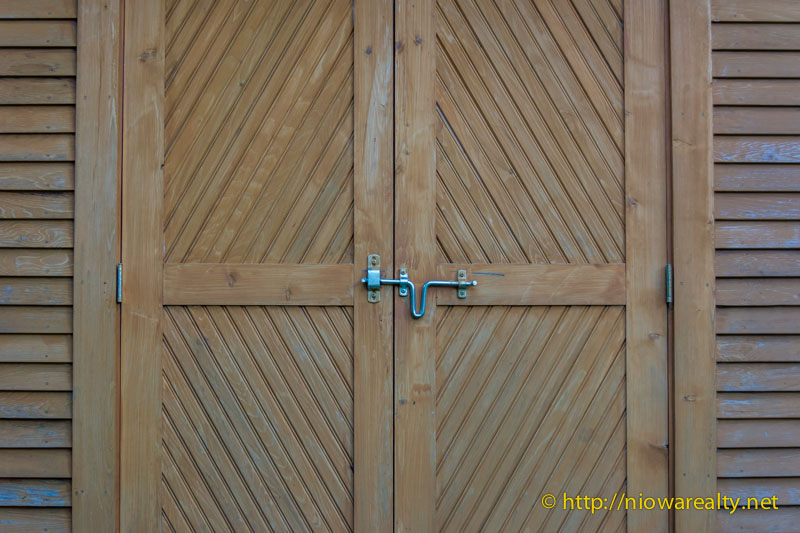 I will likely make myself crazy even attempting to count how many doors I have walked through during my look years of selling real estate in Mason City and North Iowa. I'm not talking about just front doors, but rather all doors leading in or out of houses, buildings, rooms on main floors, rooms on second floors, attics, basements and every place you can imagine having an entry door. You may think doors have become commonplace and boring with me after all those entries and exits. On the contrary, I would say I've become more super-sensitive about most doors I enter. I can tell if they are solid core, I can distinguish age, quality of construction, types of wood for the bulk of them, I can even tell if it is the original door to the home or if it has been replaced since the residence was built.
My favorite types of doors are the ones unique to our times such as well preserved turn-of-the-century doors, as well as the custom built doors of homes owned by the area's elite. Doors that squeak even have different pitches. Some are on pitch and others definitely off. I remember one door I often times entered that had the near perfect pitch of an E flat. I can instantly tell if the homeowner isn't the cleanest due to the dis-colored areas around the door handle as well as the layers of daily hand touches on the same area. We are all habitual beings—some more so than others. I have be caught red-handed several times over the years polishing entry door knobs and scrubbing dirty thresholds. I know if I see it, the buyers will see it so I work in a subtle way at times to offer a "sneak preview" to the presentation of a vacant home. I do as well remind sellers to keep their entry doorways clean and maintenance free. A sweet old lady that I worked for when I was young would be down on her hands and knees scrubbing her door thresholds as a follow-up of scrubbing her floors. She wasn't a clean freak, but believed if she could see dirt then everyone else would as well.
Not long ago, I was called to list a charming older home and the seller was one of those who would say, "Give it to me straight in what it will take to sell our home." One thing that I asked them to do and they didn't like the thought of it, but after they performed the task, they raved about how much better their home looked. What I asked them to do was to remove all the painted hinges and hardware on all of their interior doors and strip the paint off them and re-install. Trust me, those soft white painted doors with their original dark metal hardware exposed as a beautiful contrast was an eye-catcher. The home sold in a relatively short period of time. Doors were created to work for us, so in turn we should keep them in workable condition so that they provide a best foot forward presentation to the homes or rooms they give entry. Doors are meant to be welcoming.