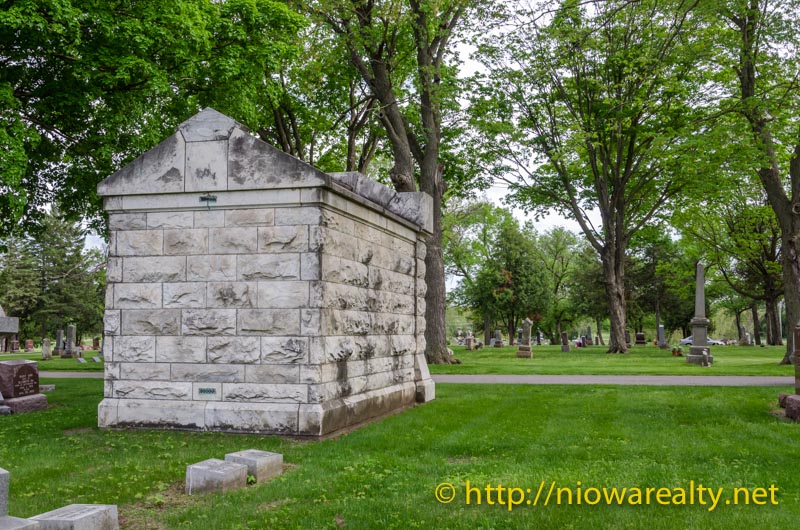 Another beautiful day in North Iowa and indeed glad for it because of it being Memorial Day. I met with one of the most dear customers whom I hope to stay in contact with after the closing of the sale of her purchase. She is indeed one of the very few people I've become acquainted with who has likely lived a hell on earth, yet continues to be positive as well as humorous. I'm almost convinced, she at one time or other in her life, has kissed the Blarney Stone. When she left the office today, she said she's going to miss me, but I said, "Don't worry, you haven't seen the last of me." What I absolutely like about her, is her love of family and the simple things in life. So many times I've heard her telling stories about baking cookies with grandchildren. I am indeed certain our paths have not finished crossing.
In an attempt to be the good son, I promised my mother that I would go to visit my father's grave along with the other family members that have gone before me. I arrived there late today and glad for it. There were people in the distance, but none in and around the graves I was visiting. For some reason, I was walking more slowly and reading the headstones. The more headstones I recognized, the more sad I was becoming. There were numerous headstones of people that I personally knew with family living in the area with not even a single remembrance on their graves. I then walked farther into the old district where the monster tombstones are as well as the mausoleums. This is the first time in so many years I went that deep into the cemetery. To my absolute surprise, there were nearly no flowers in whole sections.
Because I remember much of the history of the founding fathers as well as prominent business people of Mason City, I was recognizing family name after name. If any of us could imagine the hardships those families had to endure, as well as the two world wars that likely extinguished the early lives of their children for the noble cause of freedom, there would have been flowers. I haven't quite decided why I always had the feeling that if we don't take active steps in remembering those that have gone before us, we are left with nothing more than shallow lives filled with only the memories of today. Just today, I encouraged a dear client/customer to keep a gorgeous brass tool that belonged to likely her grandfather. But the real thrust of these words is when I speak of an encounter with an older cousin of mine today at the grocery store. In our chance meeting, we ended up talking about our grandparents. To my surprise she remembered very little about our grandparents. She insisted that we get together again so I can fill in many of her "blanks" about our grandparents. If only we all could remember those that have gone before us.