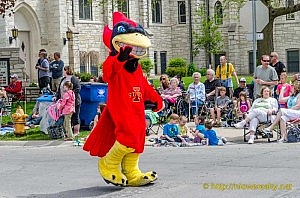 Today was a most delightful day. I made sure to set aside time to see the Band Festival Parade. The weather was perfect with a gentle breeze and full sun. It has been several years since I spent a great deal of time standing on Pennsylvania Ave. with camera in hand and taking a number of photos. I can say without a doubt that there were some really good bands playing. They were so good, I was becoming a bit teary-eyed at times.
I discovered one of my neighbors standing a ways down the line, so I thought I'd go and stand with her while watching the parade. We were talking about the previous years' festivals including the year when bands from nearly all the States were in attendance. More than once this past week people commented on how they wish they could get more big marching bands to attend. The band that was here from south of Minneapolis was putting on quite the show. The choreography was amazing. I mentioned to my neighbor how most people have no idea the amount of practice it takes to get that good. Not only do you have to keep the instruments in tune, you have to have everyone playing together and marching together. Can you imagine how hard even the marching is? Just think about how nearly everyone walks at a different pace and to get everyone to march together as one unit would be a daunting task.
The wide-eyed children watching the clowns and reaching for candy being thrown made me smile. I was getting a bit perturbed by people walking up and down the sidewalk in front of me whenever I wanted to snap a photo. Actually, there were some of the people in the parade that were posing for me a bit when I was photographing them. That was fun. I was trying to be a bit inconspicuous in the crowd as too many people that knew me, wanted to stop and chat. I really did want to enjoy the parade and get some good shots with my camera. As I was walking back to my office, I considered how many more people should have been in attendance. You could watch an event like this on television and not even come close to the added affect the show has on you unless you are there "in it". What a great day to experience the seventy-six trombones in the big parade!