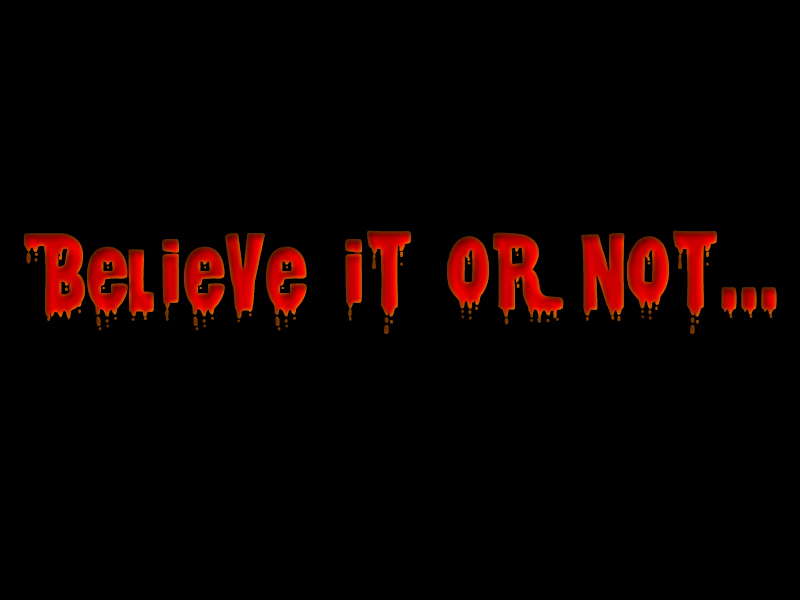 I sort of promised myself some time after I started writing these articles, I would speak of some of my personal experiences with homes and acreages in Mason City and the North Iowa area. To begin with, when I started in real estate sales many years ago I was about as open minded as well as scientific as any normal person. Happenings that people spoke about that were unexplainable or considered spooky, I easily dismissed. Well, yours truly has had his baptism in fire more times than he wants to remember. After the second or third occurrence of personally experiencing something that was beyond explanation as well as not having any prior knowledge of the properties' prior history, I soon became a believer. Because these incidents did happen and other people, I will not tell names, dates or places. I don't consider it fair to them as well as myself. Sometimes the past is best kept cloaked.
People think that hauntings happen in creepy old houses up on hills at the ends of streets. Those are ideas from the movies. My first story is about an absolute COLD encounter with the sellers as well as the home. One Spring day I received a phone call from a gentleman who was referred to me by a past client. He asked if I could go out and do a market analysis on his home as he and his wife were thinking about selling. We set an appointment for the following afternoon. The next day I arrived at the house which I don't ever remember being on the market so I figured they had lived there for a very long time. I was greeted at the door by the couple and we proceeded to the kitchen table and talked about their home. It was a pretty normal encounter. They asked normal questions and I gave normal answers.
They proceeded to give me a tour of the home from top to bottom and mentioned all the updates they made during the time they lived there. I proceeded to tell them what I thought their home was worth and they sort of debated between themselves whether they should list it. Finally the wife gave the nod to list. I left the Sellers Disclosure with them to fill out while I proceeded to start measuring rooms an taking notes. I started upstairs and worked my way to the basement. The basement was finished with a very large rec room. Since the room was so long, I had to stand in the middle and measure from the center in both directions. Suddenly without warning, I felt someone "poke" me in the center of my back up towards my shoulders. You can imagine how I reeled. I turned around and no one was there. I looked everywhere to see what could have done that to me. There was nothing.
Then my heart started racing thinking there was someone in one of the other darkened basement rooms. I switched on the lights in those rooms and there was nothing. After taking the basement notes and measurements and my heart still racing, I'll never forget saying to myself in my mind, "Mr. Chodur, you really are going crazy!" When I got back upstairs, I noticed that the son had arrived and was looking over the shoulder of his father and reading the Sellers Disclosure. The son said, "Dad, do we have to tell them about "C"?" I became immediately inquisitive by saying, "Who's "C"?" The father proceeded to tell me that the previous owner committed suicide in the attached garage. He was surprised I didn't know about it. I proceeded to tell them what happened in the basement and they all had their laugh on me. They merely said, "Oh, it's "C" at it again." They went on to tell some of the most hair raising stories about happenings in the home during the first years of living there. They said it sort of quieted down over the years but there were sporadic times when "C's" presence was made known.
The most interesting thing about that home is that I never stepped foot in the home again. Other agents would show it but I never had anyone ask me to show it to them. It was as if I was barred from returning. The home did sell and the sellers moved on. To this day, I will never forget the poke in the basement. Believe it or not, this did happen.